This won't be your typical Adobe Photoshop quick start guide — we'd like to focus on getting you set up to succeed right from the start, and that means exploring the less flashy and glamorous parts of Photoshop use before you move on to creating your first masterpiece. F.I.R.S.T. is one of the top graphic design schools in the country, so we're sharing our expertise so you can get started on Adobe Photoshop today.
---
If you're a recent graphic design school graduate or even just interested in trying to become a graphic designer on your own, chances are you're pretty familiar with Photoshop! Or if you're starting to consider a career in graphic design you'll want to know as much as you can about the design industry standard tools of the trade.
That's where we come in! Our Photoshop quick start quide will get you designing in no time.
STEP 1: SET UP YOUR WORKSPACE

The next time you open Photoshop, spend a little time looking at the different workspace options. With your window at full size, you can find a drop-down menu of default workspaces in the upper right corner of your screen directly below the minimize, resize, and close buttons on a Windows PC, or beneath your time / date display on a Mac. You can also access your workspaces via the main menu bar: Window > Workspaces. Defaults include workspaces for 3D modeling, Painting, and Photography.
Photoshop also allows you to customize other aspects of its appearance and functionality from the color of your guides to the appearance of your tool tips. You can adjust the amount of memory Photoshop is allowed to use, how files are saved, and where your presets and defaults are stored.
Studies have shown that when you have the optimal workspace for your personal workflow you create better designs in less time, and with less stress. We think that's a win for everyone involved!
STEP 2: LOADING ANY EXTRAS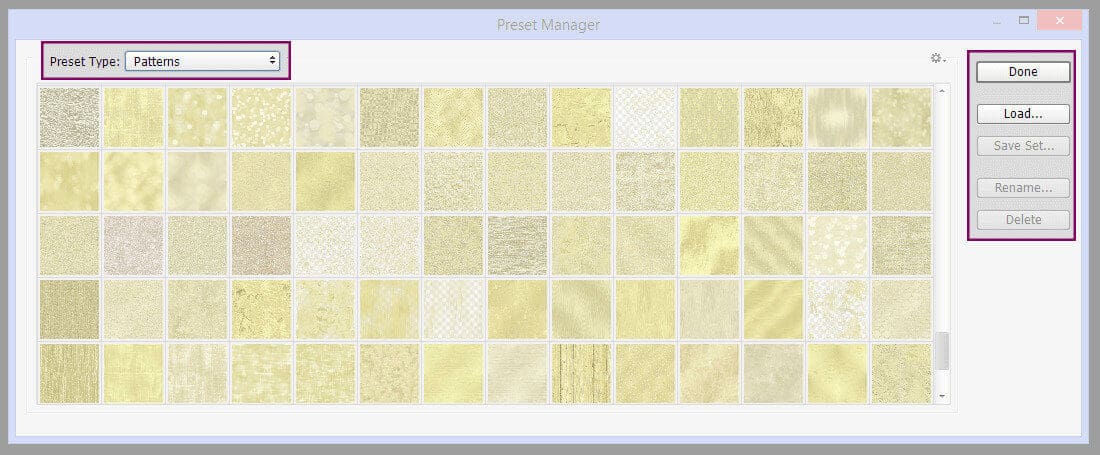 We'd like to say one thing: steer clear of using default presets of any kind without some sort of modification / alteration of the stock settings. Nothing screams amateur louder than slapping an obvious layer style like a drop shadow or bevel on something and then leaving that setting as is! Layer styles and filters are some of the most commonly used (and abused) presets in Photoshop. Defaults & presets are not inherently bad. They can be fantastic additions to any design if they're used responsibly.
You can load your own presets by selecting Edit > Presets > Preset Manager from your main toolbar, or by clicking on the menu icon in the upper right corner of some panels including the Brushes, Swatches, and Custom Shapes panels. From the Preset Manager you can view your current / active presets, load others, save sets of presets (for example saving a specific set of swatches relevant to a particular client or project) and even reset your presets back to the original default set.
STEP 3: GETTING TO KNOW YOUR BASIC TOOLS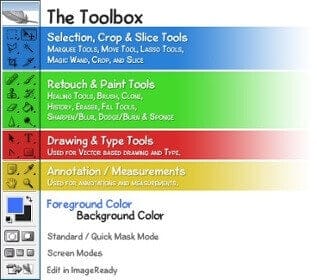 The tools panel is an absolutely essential part of your workspace – almost everything you do in Photoshop will involve one of its basic tools! Here are a couple of short run-downs of the basics in the Tools panel.
If you want to speed up your workflow even more, take a look at these links for a list of keyboard shortcuts that can help you access the tools panel:
Photoshop allows you to customize your keyboard shortcuts too—if you prefer a certain keystroke you can set that to be your shortcut to the tool of your choice.
STEP 4: NON-DESTRUCTIVE EDITING
Imagine that you're editing a photo for someone and they ask you to remove something…. How do you do it?
You could grab your eraser tool and get to work easily enough right? Sure, that's one way you could do it. Let's suppose that you have your preferences set to allow Photoshop to save 20 history states. This means that you can reverse your steps up to 20 moves ago. That's plenty to get the job done you think, so you get to work.
Once you're satisfied with the result you save your work, you save the file and send it to your client who immediately sends it back, complaining that you cut out too much of the picture and they'd like you to fix it. You have to start all over, because you edited the original pixels of the file they gave you. OOPS!
Non-destructive editing enables you to make all sorts of changes from basic photo edits to more complex tasks and transformations, all without altering a single pixel of the original file.
By utilizing Layer Masks, Adjustment Layers, Layer Styles, Smart Objects, and other techniques it is possible to change the colors in a photo or even insert your original designs into a mockup and change them at will, allowing clients to visualize what their order would look like on different products in a variety of situations. And that's just the beginning!
Non-destructive editing covers a broad range of tricks and techniques. You can learn more from these articles:
STEP 5: SAVING YOUR WORK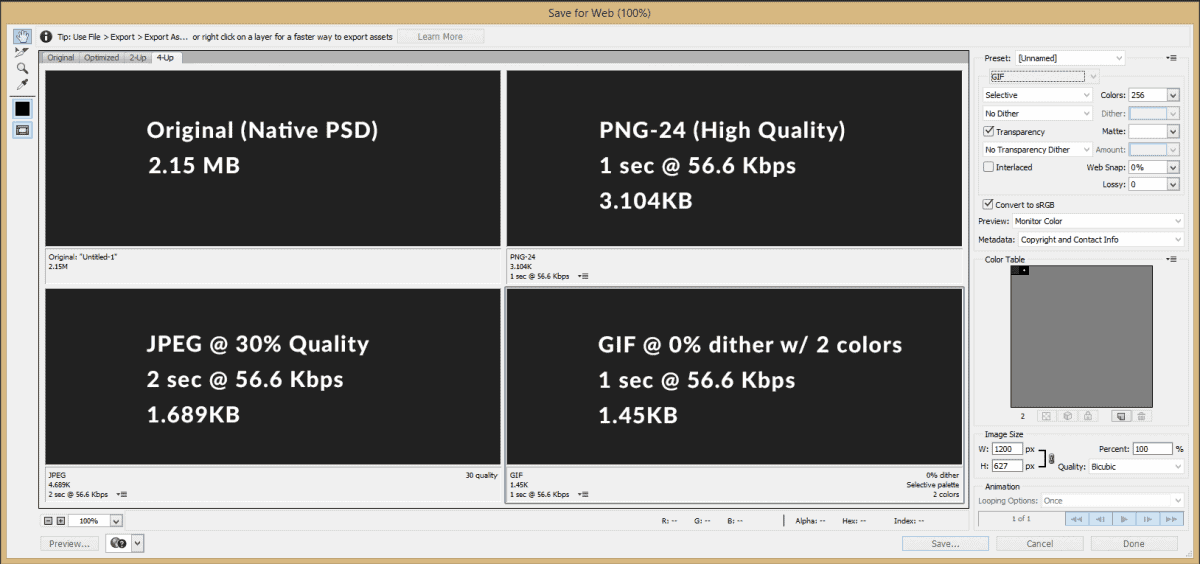 Photoshop offers a bizarre array of file types. Many you've probably never heard of and will never need to use. Sorting through them can be confusing if you're not familiar with which file type you need to choose for a particular project.
Regardless of the project, you should always, ALWAYS save your work as a PSD file. This is the first choice in the list of file types you can choose from—it is Photoshop's default / native file type and stores a lot of information about your project including selections you've saved, and all of your layers and adjustments. If you see that you misspelled something, you can just open your PSD file, edit the text (assuming you didn't rasterize it before saving), save the changes you made to your PSD file, and then save your work again as whatever type of file your client has requested. It might seem like a lot of work, but keeping a copy of your work as a PSD file can save you an incredible amount of time and energy in cases of edits both large and small.
For large photos that will possibly be printed, JPEG is best. JPEG is a lossy format however—this means that every time you open and save the file, it is reduced ever so slightly in quality. Think of the quote graphics people repost on Facebook. Have you noticed how some of them are so pixelated and blurred you can barely read them? That's what happens to JPEG files over time. If you're saving edits to a photo that will be printed in a magazine a certain amount of quality loss is expected and isn't obvious thanks to the printing process.
GIF is a file type we all know and love, especially if you spend any amount of time on Tumblr! Before many people could edit and publish higher-quality video files, GIF was the delivery method of choice for short motion graphics and animations. A GIF can also have a transparent background which is a big plus for many types of designs.
Last of the most commonly requested file formats is PNG, which is ideal for saving smaller files for use on the web, especially if there is a rich color palette and any sort of transparency is needed. Many brands use PNG copies of their logo on their website because they then have plenty of choices when deciding where to display it.
Using the "Save for Web" option (which is accessible by clicking File > Export > Save for Web in Photoshop CC) it is possible to see what your work would look like as a GIF, JPEG, and PNG file as well as how large that file would be. You can select the best option for your project and save your file by clicking the "Save" button at the bottom of the window.
JUST REMEMBER
The beauty of Photoshop is that it can be used in such a wide variety of ways—no two images are ever exactly the same! While the design industry is forever divided on certain issues, there are some design rules of things that are definitely best avoided if possible!
Graphic design has evolved over time thanks to the many different digital editing programs available today – no matter which of these you use, there are some design trends that have fallen out of fashion and need to stay there. Practice safe graphic design and join us in improving the way people share their messages through the rich and wonderful medium of visual communications.
How To Create Graphics In Adobe Illustrator
---
BECOME A GRAPHIC DESIGNER AT AN ACCREDITED GRAPHIC DESIGN SCHOOL
F.I.R.S.T. Institute's Graphic Design and Web Development Program will give you the tools to become a graphic designer in just 11 months and skills that stretch far beyond those covered in this Photoshop quick start guide. From a faculty made up of experienced design industry professionals to a broad spectrum of courses and a dedicated career in graphic design, we give students access to everything they need to succeed in the design industry, both in class and on the job.
If you'd like to know more about our Graphic Design and Web Development school, please give us a call or send us an email! Our admissions team are standing by to answer any questions you might have.
Related Content:
4 Different Types Of Graphic Design
Learn how graphic design can help your business grow.