As an audio engineering instructor, I see a lot of essential techniques missing from student mixing sessions. These five steps make up my day-to-day checklist when mixing audio. They won't make your mix sound amazing — they are not magic, but they will help you be more efficient and organized. I will be showing the following Audio Engineering Tips for mixing audio based on Pro Tools, but these steps can apply to any DAW and genre of music you are comfortable with.
---
1. NAME & COLOR YOUR TRACKS
On Pro Tools, renaming a track is as easy as double clicking the name of your track. I have received many sessions to work on with tracks named "Audio 1" (Pro Tools default) that I had to listen to in order to identify what sound was recorded. Double clicking on the actual color of the track to the left of the Record-arm button will bring up the Color Pallete window for you to pick the color desired. Having all your sections named and color coded makes your session so much easier to view.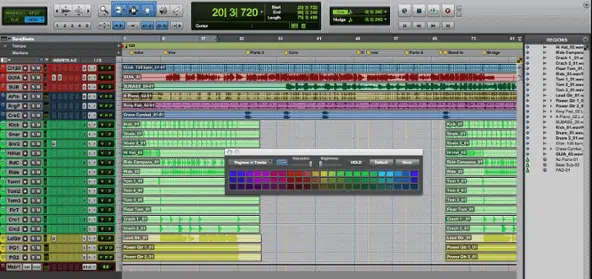 2. SET AUXILIARY & GROUP TRACKS

Setting up Aux tracks for specific groups within your mix such as Drums, Guitars, Backup Vocals, etc. lets you have more control over them. You'll be able to do things like EQ, compress, and affect them all at once. Make sure to name all of the Busses which route to your Auxiliary, as seen in the picture above with "Drums". Grouping your tracks is also a great way of having control of multiple tracks at once, letting you control the 'Mix & Edit' of any of the tracks within the group. Command + G will bring up the Group Window in Pro Tools.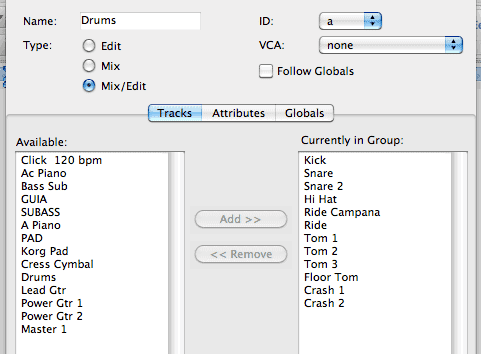 3. PRINTING MIDI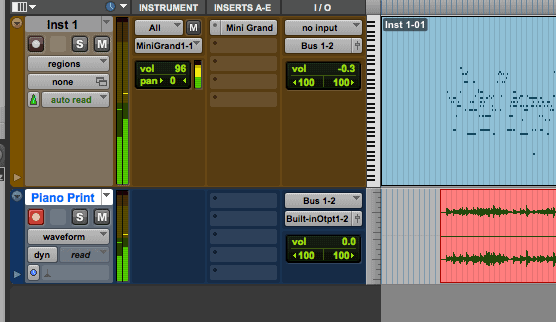 Another big step that gets overlooked a lot of times is printing MIDI. This can be very helpful to your session and your computer as well. Printing your MIDI and making your instrument track inactive will actually take off from your computer's processor, making it run a lot smoother. It is also a lot easier to edit your printed audio than MIDI tracks & Instrument Plugins.
4. REFERENCE TRACK

It's always good to have a Reference Track to go back and listen to in the same genre of what you are mixing. Sometimes the client will tell you, "I want it to sound like this" and give you an actual finished product for you to go off of. This track will be minimized and muted for the majority of the mixing session.
5. MASTER FADER & METERING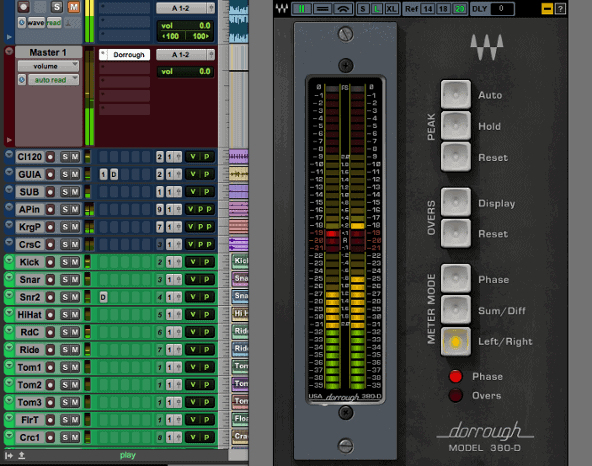 Creating a Master Fader is probably one of the most important steps. The Master Fader is the sum of all your tracks, giving you the overall meter of your session. This is crucial since you need to leave a good amount of headroom at the end of your mix, so I will recommend keeping an eye on your metering, leaving at least -4db to -6db of headroom. I personally use the Waves "Dorrough" meter as seen in the picture above.
Congratulations! You now have a good organized session ready for your creative art to begin adjusting the Mix. We have Named our Tracks, Set our Auxiliaries, Printed the MIDI, Set up our Reference Track & Created our Master Track with a Meter inserted. I would like to hear some feedback on how this has helped you & has prepared you for that next big hit! Take care.
---
LEARN RECORDING ARTS SKILLS WITH US!
A quality education from a good audio engineering school like
F.I.R.S.T. Institute
, one of the best audio engineering schools in Florida, can teach you the skills you need to succeed in the music production industry. There you'll learn what you need to get your new music production career off the ground, you'll even learn your way around a studio and things like how to be a music producer and how to make your own music.
You won't get our quality, hands on learning experience with passionate audio industry professionals anywhere else! Check out the
Recording Arts and Show Production
program at the F.I.R.S.T. Institute audio production school today. You're only months away from your dream career!