Despite its name, Adobe Illustrator is not the exclusive domain of cartoonists and other artists who work primarily through the digital equivalent of more traditional mediums; many have replaced pen and paper with a stylus and drawing tablet, but the theory is much the same with graphic designers everywhere utilizing Adobe Illustrator.
Here is our Adobe Illustrator quick start guide:
---
ILLUSTRATOR QUICK START GUIDE: MEET ADOBE'S VECTOR DESIGN PROGRAM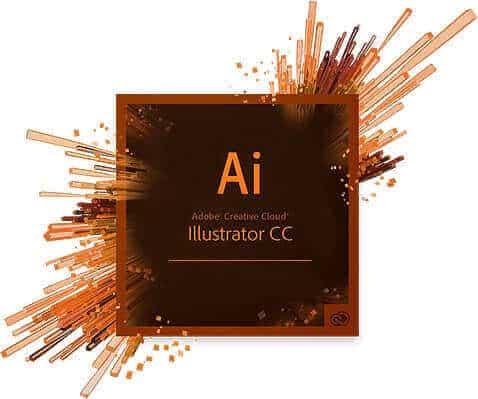 When it comes to the creation and manipulation of vector artwork, Illustrator is king.
Vector graphics are based in mathematics rather than pixels as raster graphics are (JPEGs are raster graphics) and because of this a vector graphic can be scaled up large enough to print on a billboard, or small enough to fit snugly on a business card, and do it all without any loss of clarity. Try to do that with a JPEG and see how quickly it becomes distorted and unrecognizable.
Because of their unparalleled ability to retain their crisp lines, you'll find vector art at the heart of many logos representing today's most well-known and popular brands.
GETTING A FEEL FOR YOUR WORKSPACE

Application Menu / File Menu Bar – The very first thing you will see when you open Illustrator is the Text-based menu that runs from left to right across the very top of your workspace window.
The Application Menu – File Menu Bar contains 9 different menus (File, Edit, Object, Type, Select, Effect, View, Window and Help) that when clicked on or hovered over will display groups of commands within a drop-down menu particular to that main menu item.
Default Tools Panel – In an effort to make your experience as visually appealing as possible, Adobe has chosen to condense your default tools panel (as seen on the left in the image above) and collecting similar tools into groups called Tool Galleries.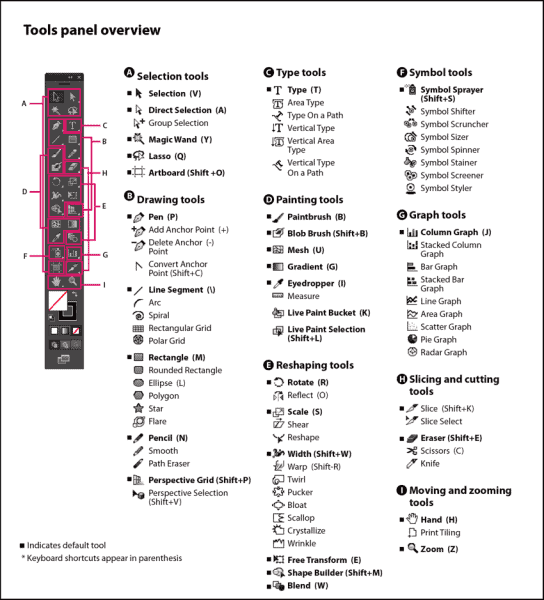 As you can see, there are plenty of tools available to you!
For a more in-depth breakdown of each tool and its function, check out the guide entitled Adobe Illustrator Tools Panel. As a bonus, the keystrokes to bring up each tool are mentioned—if you can memorize the keystrokes for the tools you use most often you can really speed up your workflow!
Adobe now allows users to create custom tool panels as of the recent release of Illustrator CC (version 17.1) moving forward. It's a bit of a workaround, but if you're a fan of truly custom workspaces, this is one trick you'll love to learn.
Workspace Name – Illustrator (like Photoshop) allows you to add and remove tools and menus as you so desire, making it very easy to set up a workspace that is perfect for you and your workflow – you can even create different workspaces for different projects and save each one under its own name. This makes it easier to get started on your next big project that much sooner. Simply set up your tools, menus, panels, etc just how you like them, then click on the Workplace Selection menu and choose the option to "Save Workspace". You can also do this by utilizing the Application / File Menu Bar and selecting Window > Workspace > Save Workspace.
Expanded Tool Groups – As a part of setting up your workspace, Illustrator offers you the option to add any of a long list of tools by selecting "Window" on the Application / File Menu Bar and choosing any of the optional menus from the 3rd section from the top (typically "Actions" is the first item in this section). Once you have brought up all of the panels you'd like to include in your workspace, you can dock them anywhere on your screen (Top, Bottom, Left, or Right) and arrange them in groups however you like. As you can see in the image below, you have the option to collapse these panels to different widths; C shows the panel at 'full size' (panels can be stretched to be wider), B shows the panels partially collapsed, and A shows a list of docked panels with only their icons visible, with the panel able to expand once its icon has been clicked on: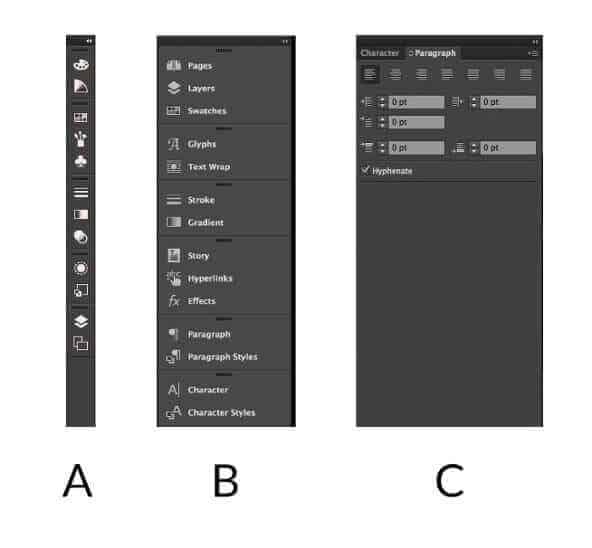 CREATING A NEW DOCUMENT
After you have your workspace just the way you like it, you're ready to create a new project.
One of the most important things you can do when creating a new document is to think ahead and consider what your design will eventually go on to be. Will it be used primarily in a digital format? Is it destined to be plastered on a billboard or printed in a magazine? Each of these projects / products have different requirements, and setting your document up with those in mind is a powerful step towards your success.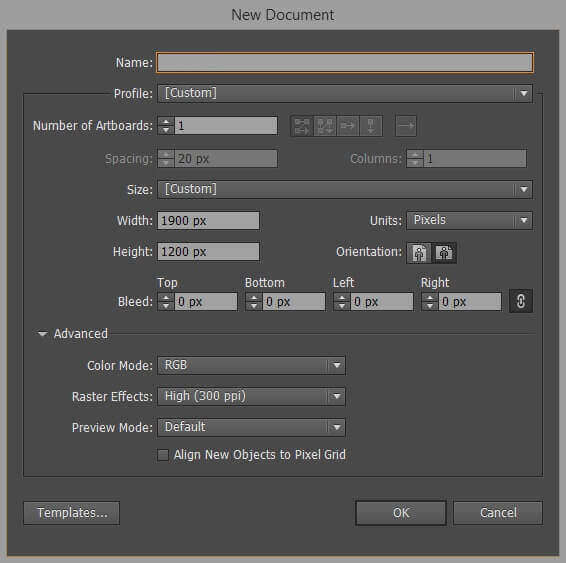 After creating your new document, take a minute or two and create any layers you know you will need and name them appropriately.
Keeping your layers neat and organized is another step you can take to ensure that you have the best possible chance at success.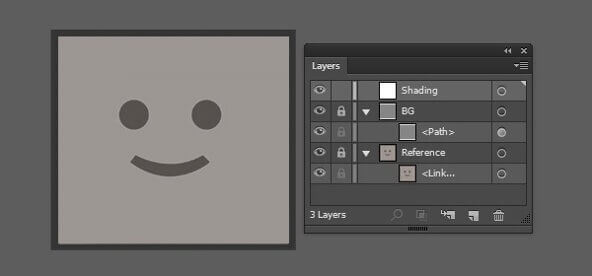 WONDERFUL, GLORIOUS ARTBOARDS
Recently, Adobe has allowed Illustrator users to get around its long-standing limitation of not allowing easy creation of multi-page documents—it is now possible to create multiple artboards within the same document.
Artboards can be used in many different ways, including keeping different parts of a project separate, designing something from different angles, and even storing all of your individual elements and reference materials within easy reach—just drag and drop from one artboard to another!

Artboards can be created when creating a new file / document:

Or by using the artboard tool located on the Default Tools Panel on your far left.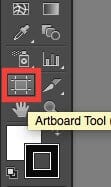 SAVING AND EXPORTING YOUR WORK
Illustrator offers users different ways to save different types of files.
Even though it is a program intended to create, modify, and save vector graphics, Illustrator is also capable of saving raster versions of any vector you choose.
To save a document in a vector-compatible format, Select "File" from your Application Menu / File Menu Bar, and then select the option that reads "Save As" – You will be offered the option to save your file as AI (illustrator's native file type, like PSD is for Photoshop), PDF, EPS, and SVG.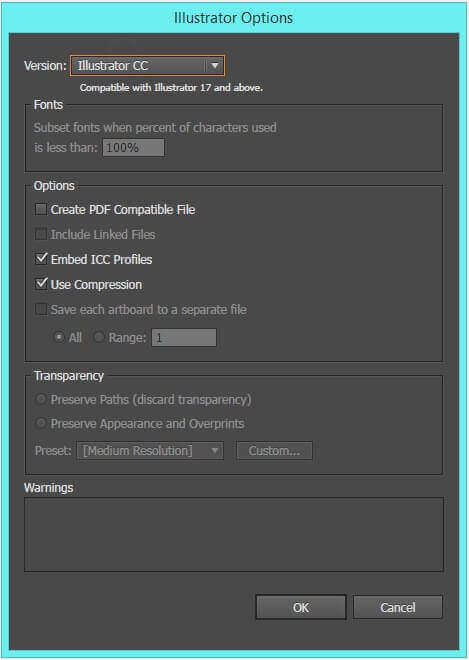 Next you will see this screen, which will offer you the option of saving your file in a "legacy" format (meaning it can be read and edited by past versions of Illustrator) or if you would like to stick to the version you are using to save your current document.
Deselecting the "Create PSDF compatible file" option will greatly reduce the size of the file created after you save your work—obviously this isn't the best idea for a final project save (especially for any designs meant to be printed) it is a good option for smaller mid-project saves and any files that will need to be transferred quickly between users.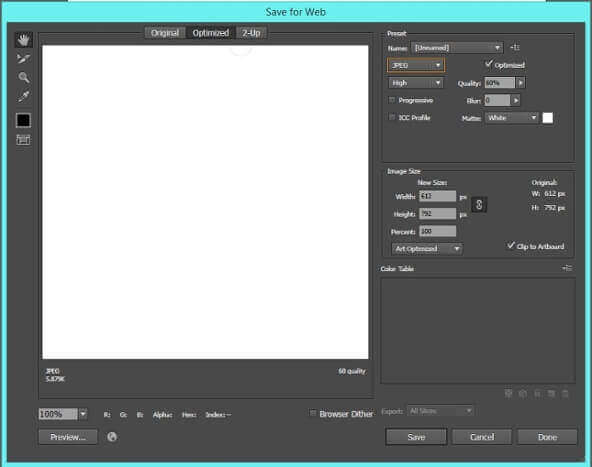 Illustrator's "Save for Web" window can be found by selecting "File" and then "Save for Web" which is an option within the same section as "Save" and "Save As".
This window allows you to save your file as a PNG (8 or 24), GIF, or JPEG file. You will have the option of comparing the original file as you've created it within Illustrator and the raster file type you are going to use to save it now. There are also several options on the right hand side of the window that you can use to fine-tune the final output.
Tip: Most clients will want to see what you've created for them before it is finalized (a project proof for example) and the "Save for Web" option is perfect for this. From here you can easily create a medium-quality JPEG file to send over for their approval. (If you're in the middle of a project, or your client hasn't paid you for that phase or milestone, be sure to place a subtle watermark over your image first.)
Regardless of the intended use of your design, we cannot stress enough how important it is to save your work as a native AI file! Native file formats are able to store all kinds of information about your document that can be lost when saving as another file type, even one that is meant for saving vectors.
IN CONCLUSION
Adobe Illustrator is an entirely different tool that stands completely apart from Photoshop. It may seem foreign and overwhelming (especially the Pen Tool!) but we believe that all of the things that make it so different are also the very things that make it awesome.
---
BECOME A GRAPHIC DESIGNER AT AN ACCREDITED GRAPHIC DESIGN SCHOOL
F.I.R.S.T. Institute's Web Development-Graphic Design Program will give you the tools to become a graphic designer in just 11 months and skills that stretch far beyond those covered in this Illustrator quick start guide. From a faculty made up of experienced design industry professionals to a broad spectrum of courses and a dedicated Career Development department, we give students access to everything they need to succeed in the design industry, both in class and on the job.
If you'd like to know more about our Graphic Design and Web Development school, please give us a call or send us an email! Our admissions team are standing by to answer any questions you might have.