Are you passionate about creating music that captivates audiences, producing sound effects that bring movies to life, or running concerts that echo with the roars of 60,000 fans? If you're ready to turn your passion for audio into a successful career, F.I.R.S.T. Institute's Recording Arts & Show Production program is the perfect place to start.
At F.I.R.S.T. Institute, we believe in learning by doing. From day one, we immerse our students in practical, hands-on experiences that prepare them for the dynamic world of the audio industry. In less than a year, they'll be ready to enter the industry with a competitive toolset that sets them apart from their peers.
Our program covers a broad spectrum of professional audio for example, some of the courses covered are:
Professional Studio Recording
Our studio recording course at F.I.R.S.T. Institute is a comprehensive program designed to equip students with the skills and knowledge needed to excel in the recording industry. At F.I.R.S.T., students can dive deep into studio recording, learning to use the tools integral to most professional recording studios.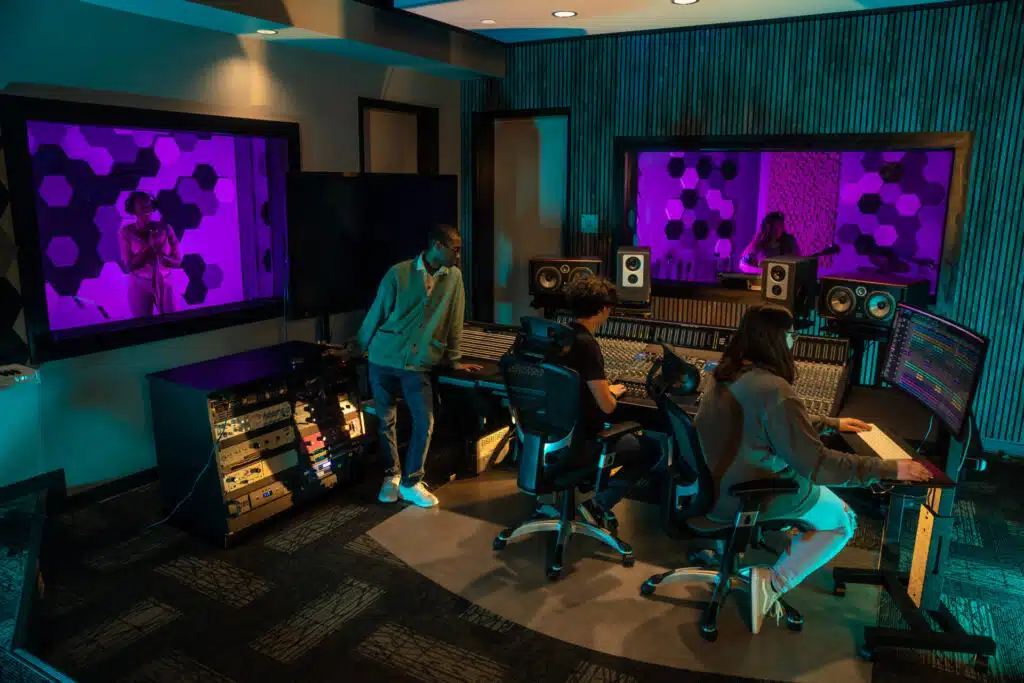 One of the key highlights of the program is hands-on experience with the equipment commonly found in top-tier recording studios. Students gain proficiency in operating complex machinery such as mixer boards, preamps, compressors, and patch bays, essential for achieving pristine audio quality. This practical training is complemented by a solid understanding of the underlying principles and techniques, ensuring that graduates are well-prepared to tackle any recording project.
Furthermore, the course strongly emphasizes microphone technology, covering both dynamic and condenser microphones. Students learn to select the right microphone for various applications and properly position them to capture the best sound possible. With access to a diverse range of microphones and recording environments, students have the opportunity to refine their skills and develop a keen ear for audio engineering.
Audio For Visual Media
The audio for visual media courses are tailored to prepare students for the exciting world of sound added to visual mediums. This comprehensive program delves into various facets of audio production, equipping students with the skills and knowledge needed to work in movies, TV shows, video games, and other visual media.
One of the core components of this program is recording field audio. Students learn the art of capturing high-quality sound on location, whether on a film set, during a documentary shoot, or for video game soundscapes. Understanding the nuances of field audio recording is crucial for professionals in the industry, and F.I.R.S.T. Institute ensures that students are well-versed in this skill's technical and creative aspects.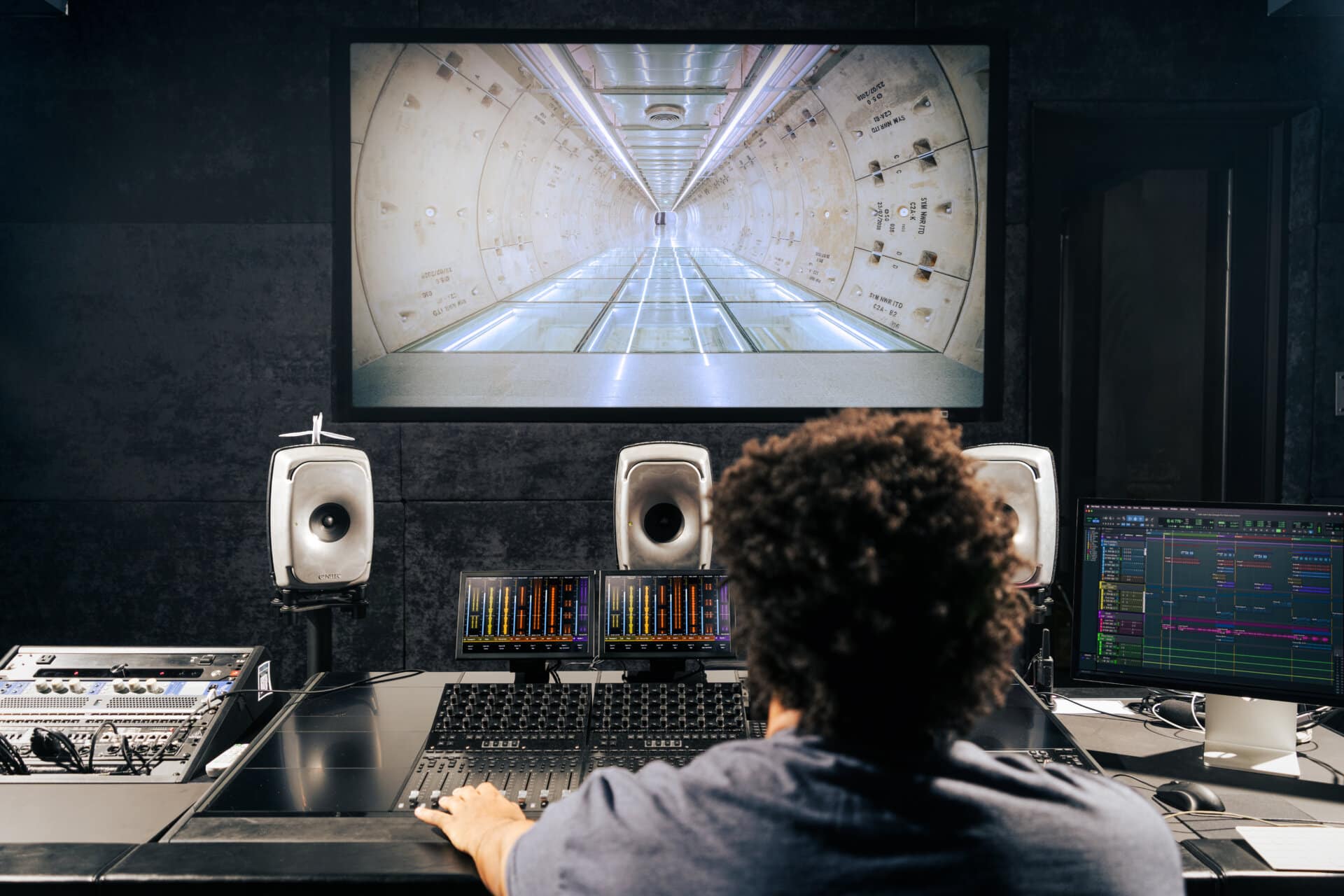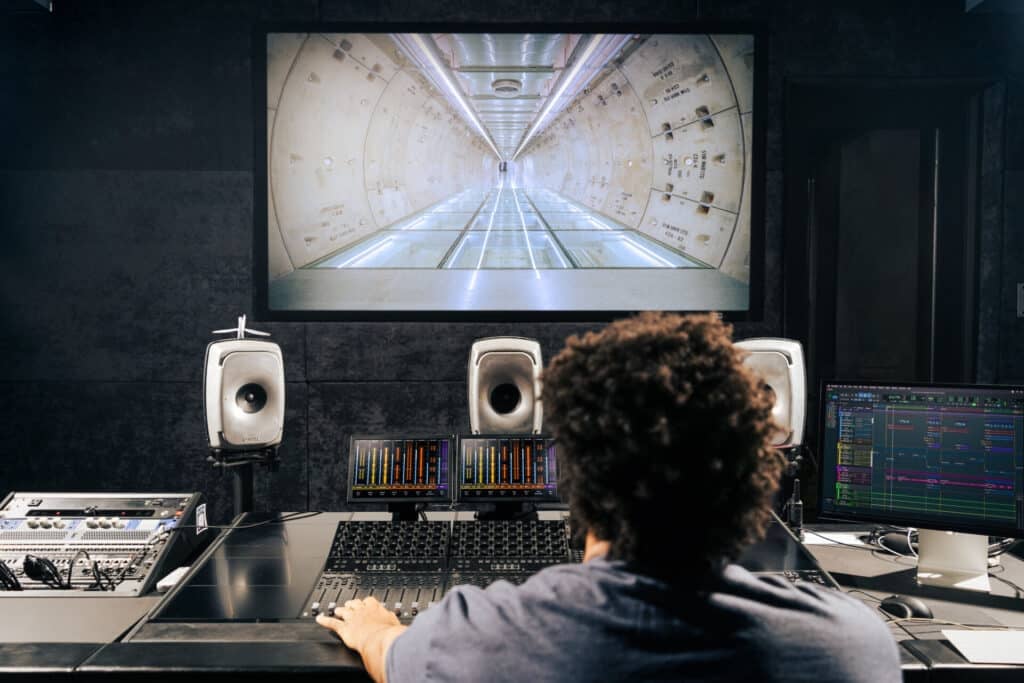 Sound design is another integral part of the curriculum. Students explore the world of sonic storytelling, learning how to create immersive and impactful audio environments. Whether it's crafting the perfect ambiance for a suspenseful movie scene or designing the futuristic soundscape of a video game, students gain hands-on experience in shaping sound to enhance the visual narrative.
The automated dialogue replacement (ADR) process is another vital skill the program covers. Students discover the intricacies of syncing dialogue with on-screen performances, ensuring that the audio seamlessly matches the visuals. ADR is essential for achieving a polished and professional final product in movies and TV shows.
Throughout the program, students gain a deep understanding of how audio enhances and complements the visual elements of media. They learn to apply audio in a way that enhances the storytelling, evokes emotions, and adds depth to the viewer's experience.
Live Sound
The live sound courses provide students with a well-rounded education in the dynamic field of live audio engineering. These courses are designed to equip aspiring audio professionals with the skills and knowledge necessary to excel in running sound for a diverse range of live events, from speaking engagements to high-energy concerts and beyond.
Students at F.I.R.S.T. Institute gain hands-on experience in managing audio setups for live speaking events, honing their ability to ensure crystal-clear sound quality during conferences, seminars, and presentations. This includes mastering the art of setting up microphones, speakers, and audio consoles to deliver seamless and intelligible audio for both small and large gatherings.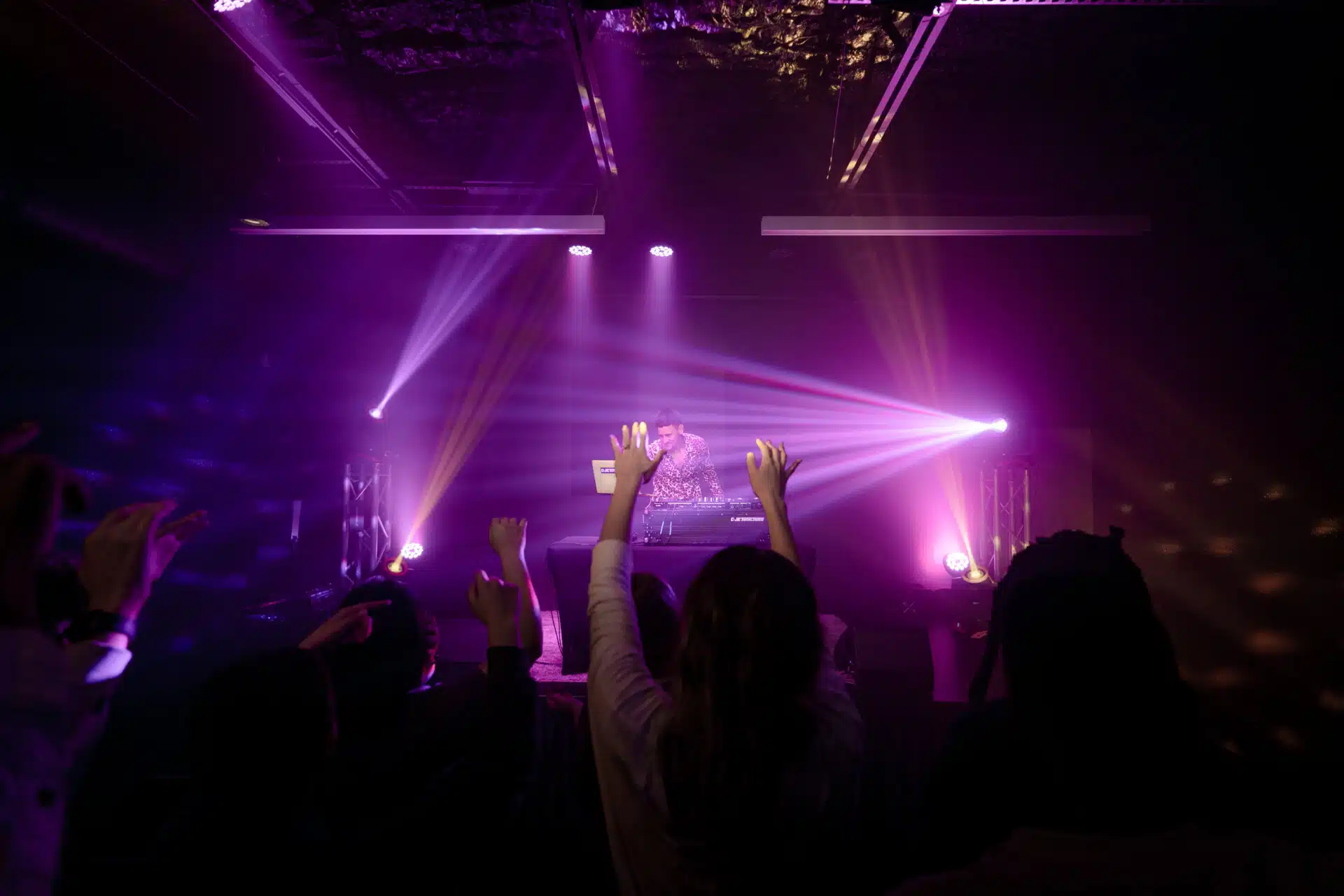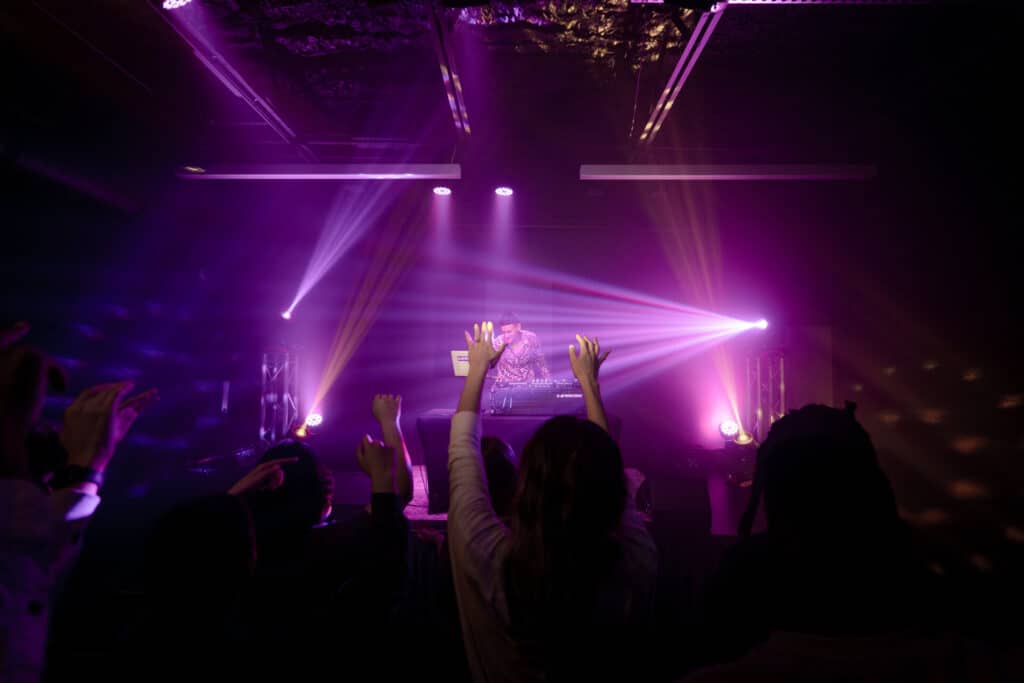 In addition to speaking events, students delve into the exhilarating world of live music production. They learn to tackle the unique challenges of running sound for concerts, festivals, and performances, where precision and timing are paramount. From setting up elaborate sound systems to managing complex mixes that cater to diverse musical genres, students acquire the expertise needed to make live music events genuinely unforgettable.
The courses also cover the technical aspects of live sound, including troubleshooting and problem-solving in real time. Students develop the confidence to handle unexpected issues during live events, ensuring a seamless and professional experience for both performers and audiences. F.I.R.S.T. Institute's live sound courses provide a comprehensive education that prepares students to thrive in the high-pressure world of live audio engineering, whether they're working behind the scenes at speaking engagements or orchestrating the sonic magic of live music performances.
All these courses, plus others in Digital Audio Workstations, music production, mixing and mastering, and more. Whether you aspire to become a music producer, recording engineer, location sound expert, or audio-visual event producer, our comprehensive curriculum will help pave the way for your success.
What Sets F.I.R.S.T. Apart?
Our commitment to practical education makes F.I.R.S.T. Institute stand out from the crowd. Our students work with industry-standard equipment under the guidance of experienced professionals. Analog audio gear, MIDI controllers, high-quality microphones, and cutting-edge production consoles like the SSL Origin and Avid S4 are just a few of the tools you'll be familiar with during your journey.
With our program's diverse scope, you'll gain exposure to various career paths, empowering you to discover where your true passion lies. Whether you're intrigued by music production, audio mixing, sound for visual media, or show production, we've got you covered. The audio industry is continuously evolving, and with F.I.R.S.T., your possibilities are boundless.
Focused on Your Career Success
At F.I.R.S.T. Institute, our primary goal is to prepare you for a successful entry into the digital media industry. A strong portfolio and industry connections are essential to thriving in this competitive field. Throughout the program, you'll create an impressive portfolio that showcases your work and highlights your talent and skills. This portfolio will be your ticket to impressing potential employers and securing exciting job opportunities after graduation.
Moreover, our intimate class sizes foster a close-knit learning environment, encouraging collaboration and teamwork. The bonds you'll form while at F.I.R.S.T. don't stop at graduation. Networking is the lifeblood of creative industries, and by the time you graduate, you'll have a built-in network of colleagues who share your passion and vision.
We require all our students to complete training in professional development to give them the best shot at a successful career. These courses equip you with practical skills such as understanding how to market yourself to employers, writing effective resumes and cover letters, and mastering job interview techniques. The hands-on experience gained through working with the tools of the trade, being mentored by industry professionals, and networking skills acquired throughout the program allow students to obtain valuable internships or job offers before graduation.
Do F.I.R.S.T. Graduates Get Jobs?
Our alumni have accomplished remarkable feats after completing the Recording Arts & Show Production program. They've worked with renowned artists like Ariana Grande, Yandel, and Lil' Wayne. Some have worked on films with Spike Lee and the Wu-Tang Clan's RZA. Others have been involved in live shows for top-tier performers like Taylor Swift, Beyoncé, and Kevin Hart. Many of our graduates have also found positions at acclaimed studios such as Hit Factory, Criteria, and Circle House. Check out our Graduates Stories to learn more about what our grads have been up to in the industry.
Discover Your Future in Audio
Are you ready to embark on an exciting journey into the audio world? F.I.R.S.T. Institute offers on-campus and online options for our Recording Arts & Show Production program. Regardless of your preferred learning style, we are dedicated to providing you with the knowledge and hands-on experience needed to thrive in the audio industry.
Don't let your passion for audio go unheard. Take a personalized tour of our program today and set the stage for a successful future in the audio industry.