Charting a Creative Journey: Unraveling Reviews of F.I.R.S.T. Institute 2020
Imagine standing at the threshold of your dreams, with a world of opportunities, experiences, and growth waiting just for you. This is the exciting journey that unfolds at F.I.R.S.T. Institute, where creativity meets education and dreams take flight. Based in sunny Orlando, Florida, F.I.R.S.T. provides both online and in-person education for a wide range of creative fields and careers.
Don't just take our word for it. We've compiled a selection of student reviews from 2020 that showcase how F.I.R.S.T. Institute has become a launchpad for careers in audio engineering, film & video production, graphic & web design, and photography. Let's dive in!
Small Class Sizes
Key Prodigyy, an alumnus of the audio engineering program, applauds our team and school for its exceptional instructors and hands-on learning approach: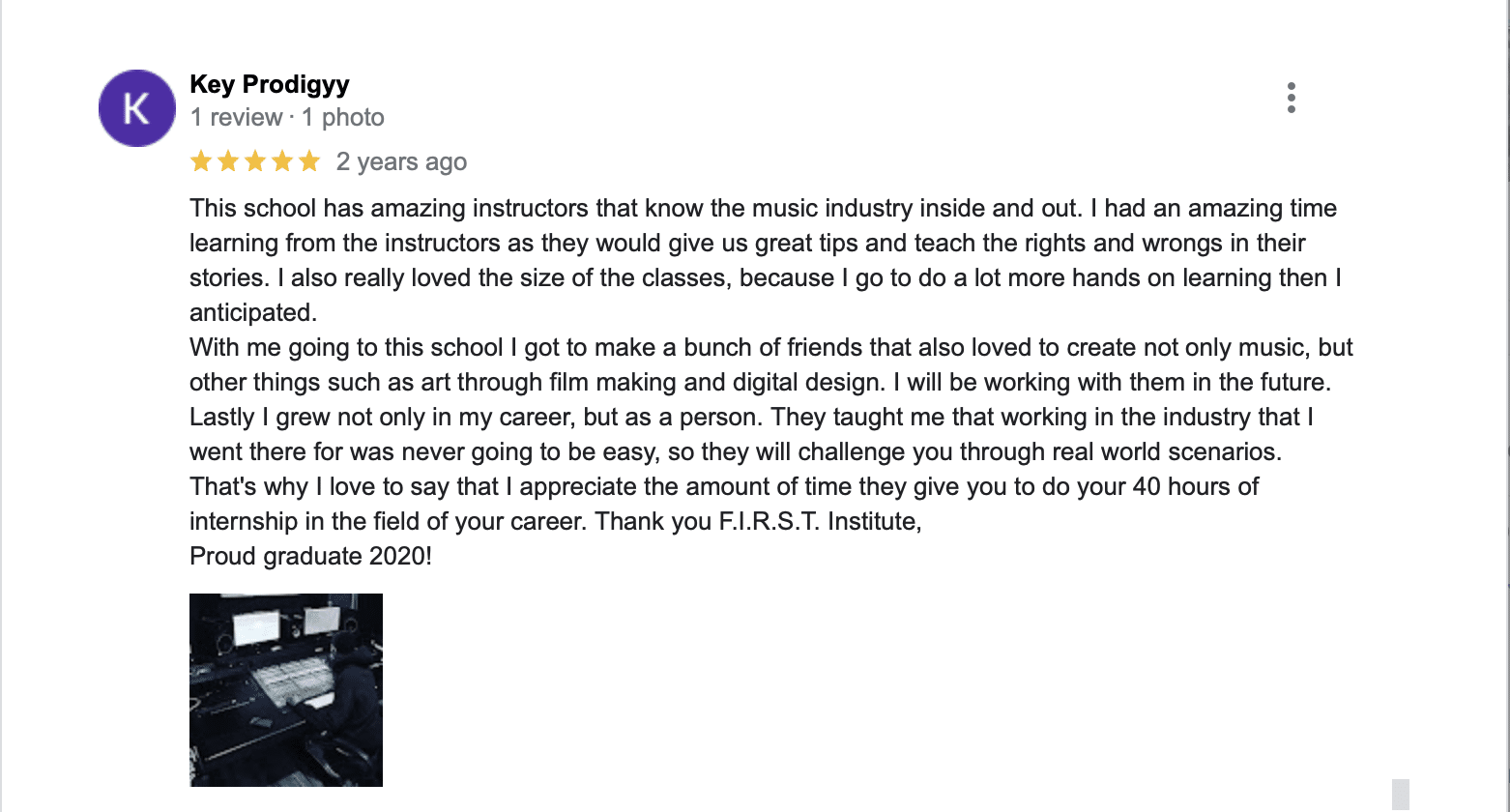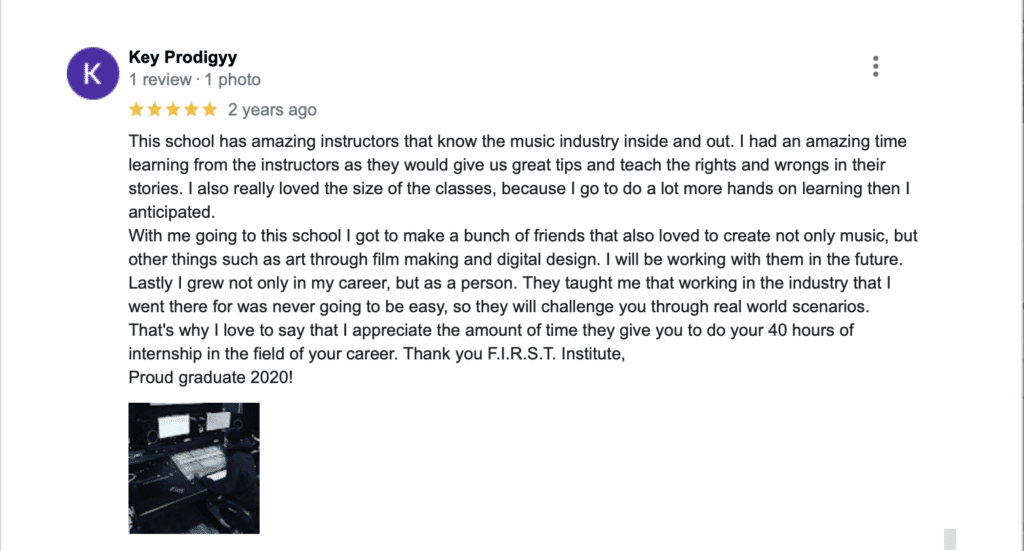 Our small class sizes at F.I.R.S.T. Institute are a key reason we are one of the top recording arts schools in the area. They allow for personalized learning and direct interaction with the faculty, giving students like Key Prodigyy a chance to learn from industry veterans and carve out their place in the music industry.
Thomas Ryan, another Recording Arts graduate, also had much to say about our classes:


Instructors THAT CARE
Isaac Vazquez, another graduate of the audio engineering program, highlights the importance of learning from industry professionals, flexible scheduling, and diverse course content:
"Honestly, I have nothing but great things to say about this school. I have always had a passion for music. However, finding relevant knowledge out there is limited and varies in quality. The teachers at F.I.R.S.T. were all real-world veterans who provided real-world experience. Each course touches on an aspect that can open a different door for you. The scheduling is flexible and fair, like any other program; you get out what you put in."
Isaac's review is a testament to F.I.R.S.T. Institute's commitment to providing students with industry-relevant knowledge and practical experience, helping them navigate their way in the professional world.
It's all about balancing the needs of each individual student with a comprehensive program that teaches practical skills.
Or, as Chris Gonzalez puts it:


Unleashing Creativity Across Disciplines
Derik Corl shared his experience of growing his knowledge across various disciplines at F.I.R.S.T. Institute.
"Great hands-on experience in an array of career fields in audio practice. Solid instructors, staff, and courses. Going in with an already established understanding of recording arts, I gained a more solid structural foundation and application in all fields of study. I hope to have a foot in the door for studios in film, games, and overall music production/vocal performances."
F.I.R.S.T.'s audio engineering courses not only cater to music enthusiasts but also to individuals aiming to venture into film, gaming, and other creative avenues. Regarding our interdisciplinary approach to education, another student, B G, says:
"Small classes and hands-on! If you are open to the many opportunities of this industry and thriving, this is the place to go. The staff is amazing. I can honestly say I've learned so much and gained more skills than I thought possible."
Regardless of your program of choice, F.I.R.S.T. has something for everyone. Blake Willis says:


Career Dreams Realized
Risa Gouvia, a self-taught graphic designer, found the opportunity to break through her career ceiling at F.I.R.S.T. Institute.
"This place became a haven for what I thought were tarnished dreams. I became a self-taught freelancer in Graphic Design and Website Development years ago and had reached a ceiling in my career. F.I.R.S.T. Institute introduced me to a world where everyday people live their dreams and perform their passions. The faculty and staff are really invested in their careers, yet find time to create a safe, kind, thoughtful, and progressive place for technical learning."
Likewise, Michael Dalmau, who sought to deepen his knowledge of graphic design, found success and satisfaction at F.I.R.S.T. Institute.
"F.I.R.S.T. was my choice pick in delving into the world of graphic design, and I could not be happier. I ended with the position as President of F.I.R.S.T. Access and made it with soaring colors due to the ever-helpful persistence of my instructors and faculty as well as a little boost from other students."
These testimonials validate F.I.R.S.T. Institute's commitment to equipping its students with the skills and knowledge to thrive in the industry. Our continued mission of serving students first is at the foundation of our programs. It allows us to maintain our high standards aligned with current industry practices so that you are ready to take on the professional and creative worlds when you leave.
Wrapping it Up
With nearly 20 years of fostering creativity and inspiring dreams, F.I.R.S.T. Institute has become a destination for those seeking a future in the creative industry. Students, from aspiring musicians to digital artists and filmmakers, have found a home at F.I.R.S.T. Institute, where they can transform their passion into a successful career.
Ready to chart your creative course with F.I.R.S.T. Institute? Reach out to us today and explore the wealth of possibilities in our audio engineering, film & video, graphic design, and photography programs. Make F.I.R.S.T. Institute your first choice for a creative future. Your journey starts here!
Regardless of the answer, F.I.R.S.T. Institute invites you to embark on this transformative journey and discover the limitless potential of creativity. Connect with F.I.R.S.T. Institute today to chart your course to success.