In this Audio Graduate Spotlight, we're checking in on music production graduate Steven Harrison. Since graduation from F.I.R.S.T. Institute, Steven has started his own business, Hype Music Industries, and is working hard to make a name for himself in the music industry and keeping his over 2,000 clients coming back for more. Read on to find out what he's working on!
---
WHEN DID YOU FIRST START GETTING INTERESTED IN THE AUDIO ENGINEERING INDUSTRY?
Really, I've always been into music and playing instruments since I was 5 or 6, but when I was in the 9th grade I started recording recording my own R&B and rap music and that's what really got me interested in going to school for this.
WHY DID R&B AND HIP HOP STAND OUT TO YOU?
I don't know, I really liked recording it. It wasn't anything I wanted to sell or anything I thought I could make money off of, it was just something I loved to do and just a great hobby for me. I didn't even know it was an actual job possibility at the time.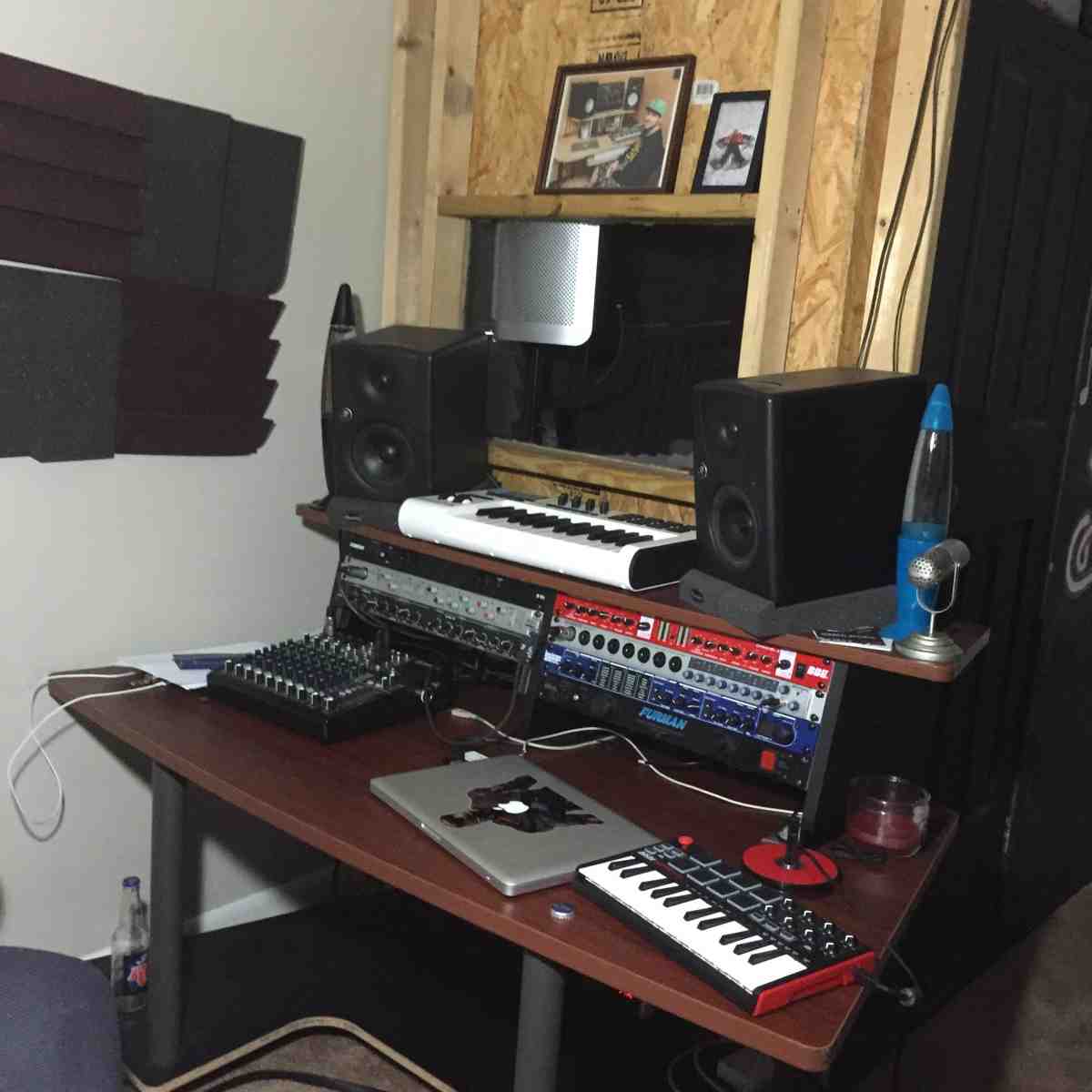 Steven's studio space at Hype Media Industries
WHAT SPARKED THE PASSION ORIGINALLY?
I don't know, I just loved it. Everything from the technical side to working with people every day and meeting new people and learning their stories is the reason why I do this. I love to talk to people and learn why they do music, where they've been, and how music has taken them places. There's always something interesting to find out and everyone has a story. In my job I get to talk to people who love and appreciate music too and I love that.
WHEN DID YOU DECIDE TO PURSUE THIS AS A CAREER?
Probably around 10th grade. That's when I visited F.I.R.S.T. Institute for the first time. I'd had a friend who went there for film and he's the one who told me about it all the way back then.
WHAT MADE YOU WANT TO GO TO A SCHOOL VERSUS LEARNING ON YOUR OWN?
The thing was that everyone's stuff who I had worked with before I went to school sounded generic and not professional. The self teaching thing just isn't for me, I wanted a piece of paper proving that I know how to do this and I wanted to have a professional teach me the right way to do all of the stuff you need to know in this industry. School is absolutely beneficial in this industry.
WHAT WERE YOUR GOALS WHEN YOU WERE JUST STARTING OUT IN THE MUSIC PRODUCTION INDUSTRY?
My original goals were to own a record label; it was not anything like I do now. But I definitely wanted to own a label but that's all changed. I really like helping out other people and I still made my own music, but my main thing back then was pushing others' music. I've always really liked recording other people and making them sound good and helping make them go further in their own careers so I wanted to have my own label to be able to do that.
SINCE GRADUATION, CAN YOU TELL ME ABOUT SOME OF THE INTERESTING WORK YOU HAVE DONE IN THIS INDUSTRY? CLIENTS, PROJECTS, GIGS, COMPANY, FREELANCE, ETC.
I've worked with a couple of big name industry people, including a guy called Bei Maejor I worked with who is now one of Justin Bieber's producers.
Right now, I'm excited about starting a new job at IMG, a company that does radio stuff. I'm working in the sports division, so we focus on college sports and I'm a technical producer there.
I also own my company, Hype Music Industries, that I started to do online work because I had a lot of friends in different areas at the time and a lot of people that recorded their stuff at home and sent it to me to engineer. Over the past seven years, I've had over 2,000 returning clients. I still do this every day and I love it.
WHAT'S THE MOST REWARDING PART OF YOUR JOB?
Really just loving what I do. I don't hate my job, I don't regret anything about my career path, I just love going to work. I know I've had a lot of jobs that I've hated before getting into this industry so it's awesome to be able to say that I love my job.
3-5 YEARS FROM NOW, WHAT DO YOUR CAREER GOALS LOOK LIKE?
I'm actually trying to stick with IMG while still doing my studio gigs because I love doing that. But this new company is so big and some of the higher ups make big money. I'd love to move up within this company. There are people there that do studio hosting, and there are people above them that make sure the 175 studios are running properly. I'd love to do that one day.
HOW DID ATTENDING F.I.R.S.T. INSTITUTE IMPACT YOUR LIFE/CAREER?
It impacted it greatly. I wouldn't be anywhere without going to F.I.R.S.T. Institute. The job I have now would have never given me the chance without the education behind me. I use everything that I learned from F.I.R.S.T. Institute in my daily life, from networking skills to the technical side of audio engineering. I still keep in touch with all of my teachers and still talk with them about the audio industry, new products and good studios around the country. I use every part of the school every day.
WHAT ADVICE WOULD YOU GIVE TO SOMEONE WHO IS LOOKING TO GET STARTED IN THE AUDIO INDUSTRY?
It's extremely hard, but if you love doing it it's a huge payoff in both happiness and financial stability. It's taken me a while to get my big break, but now that I've got it I'm set. If you're passionate about this industry, it's definitely worth all of the hard work that it takes to succeed.
---
Would You Like to Be Our Next Audio Engineering School Success Story?
There are a wide variety of careers in the audio engineering industry available, and you can start on the road to yours by enrolling at F.I.R.S.T. Institute's Audio Engineering and Music Production school. At our Orlando campus, you'll learn hands on, in real studio settings, with small class sizes. Faculty at F.I.R.S.T. Institute are working audio industry professionals who have a passion for mentoring the next generation of audio engineers.
Contact us today for more information on how you can launch a career in the audio industry and even take a video tour of the campus. Start on your path to a career in the audio industry at the best music production school in Florida today!