Aspiring media professionals searching for an educational facility equipped with cutting-edge technology and an inspiring environment need to see everything F.I.R.S.T. Institute has to offer. Our campus, located in the heart of Orlando, FL, is a place where creativity is nurtured, knowledge is shared, and careers are formed. Join us as we take you on an in-depth tour of our campus and showcase some of the exciting features and amenities that create an ecosystem where creativity thrives.
At F.I.R.S.T. Institute, we are proud to offer our students extensive resources and facilities to help them develop into well-rounded media professionals. Our campus boasts a wide variety of areas designed to cater to different aspects of the media industry. We've created an environment where students can receive practical training in real-world settings including professional recording studios as well as a soundstage, concert venue, and print lab.
Studio A
Studio A at F.I.R.S.T. Institute is a cutting-edge recording facility that boasts an impressive array of equipment, making it a dream come true for audio enthusiasts and professionals. The room is meticulously designed to provide an optimal recording and mixing environment, ensuring top-notch sound quality and precision.
One of the standout features of Studio A is its exceptional monitors. The room is equipped with Focal Twin 6b speakers, known for their transparent and accurate sound reproduction. Additionally, the Barefoot Footprint O2 speakers offer a detailed and immersive listening experience, making them ideal for critical monitoring and mastering tasks.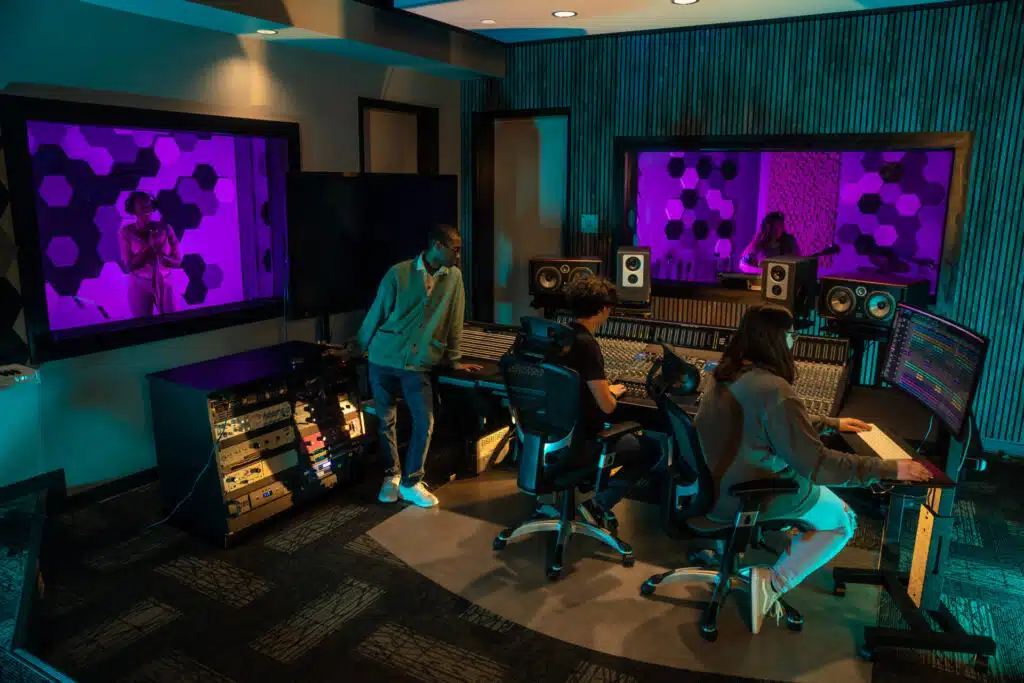 The heart of the studio lies in its soundboard, the SSL Origin. This industry-standard console is revered for its pristine audio quality, flexibility, and intuitive workflow. It serves as the central control hub for the recording process, allowing engineers to effortlessly shape the sound and mix with precision.
To capture the finest nuances of sound, Studio A provides a diverse collection of microphones. The AKG C214, Avantone CV12, AKG 414, Neumann TLM 103, Neumann KM 184, and Sennheiser 421 are just a few examples of the high-quality microphones available. Whether it's capturing vocals, instruments, or drums, these microphones offer exceptional clarity and fidelity, ensuring that every performance is accurately captured.
Complementing the microphone selection, Studio A houses an impressive range of outboard gear. The Tube-tech Compressor CL1B, MC77 Limiting Amplifier Purple, and PCM 80 Lexicon are among the standout pieces, known for their warm analog characteristics and versatile sound shaping capabilities. The Clariphonic Parallel Equalizer, Avalon Vacuum Tube, M76m Mercury, and Universal Audio Twin 710 finity further enhance the studio's sonic palette, allowing engineers to sculpt and enhance audio signals with precision and creativity.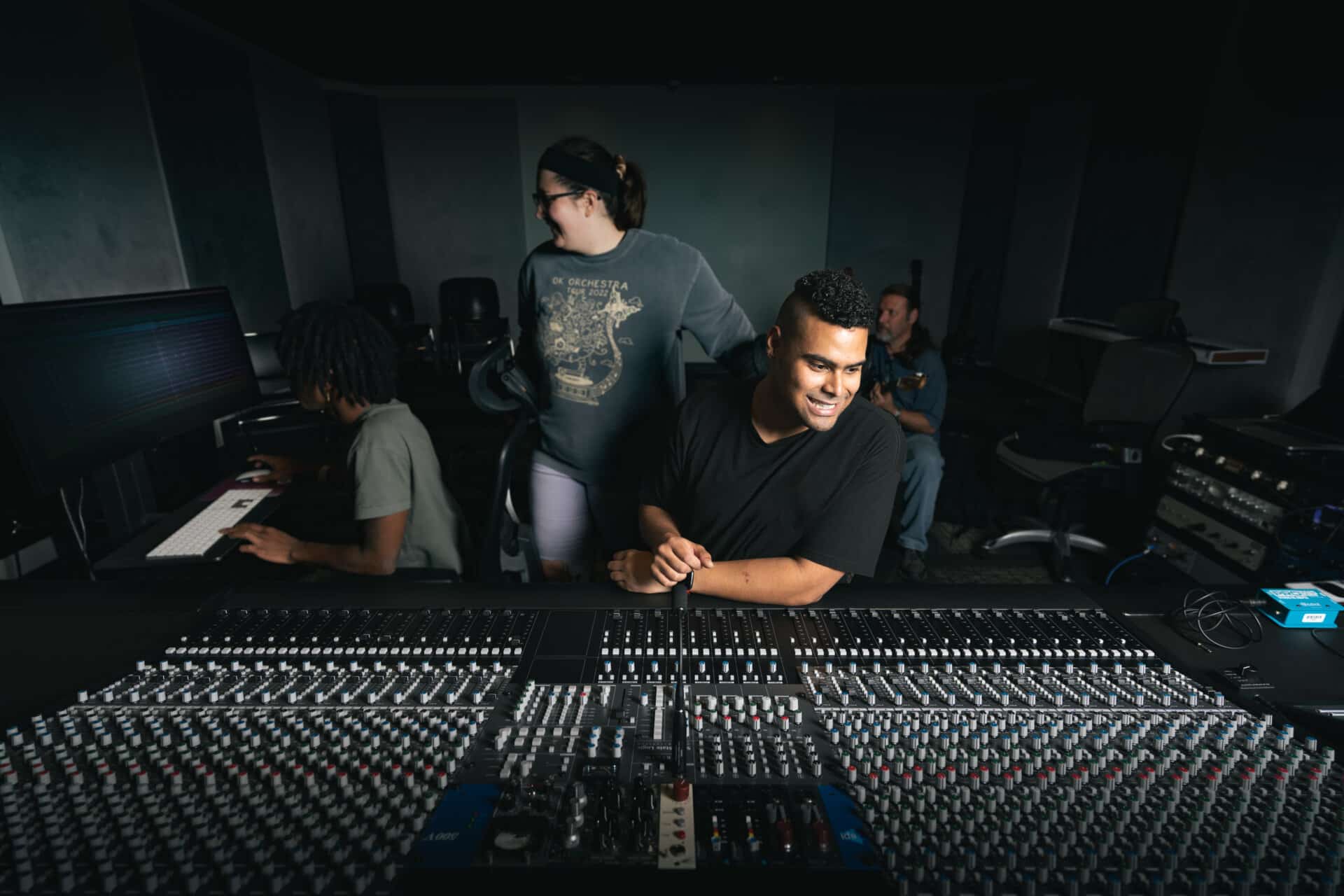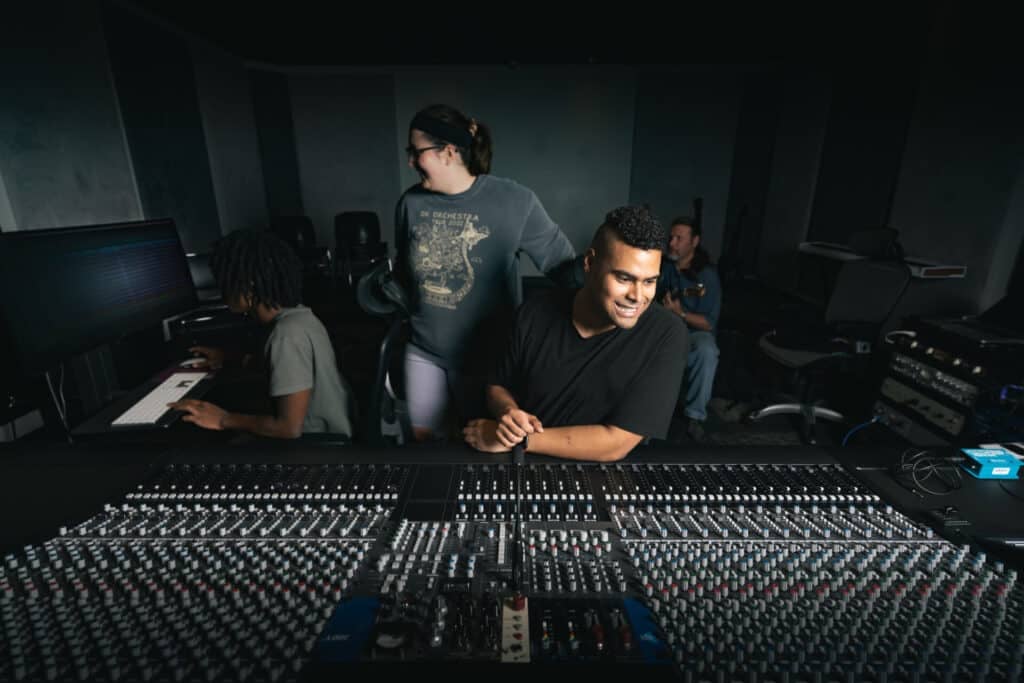 Furthermore, Studio A features onboard gear that includes the highly regarded Neve 1073 and API 512c preamps, as well as the PEQ 2264 equalizer. These legendary pieces of equipment are renowned for their signature analog sound and vintage character, adding warmth, depth, and color to recordings.
With its impressive selection of speakers, soundboard, microphones, outboard gear, and onboard gear, Studio A at F.I.R.S.T. Institute offers a professional-grade recording environment where artists and engineers can achieve exceptional sonic results. It serves as a creative haven for aspiring audio professionals, providing them with the tools they need to bring their musical visions to life.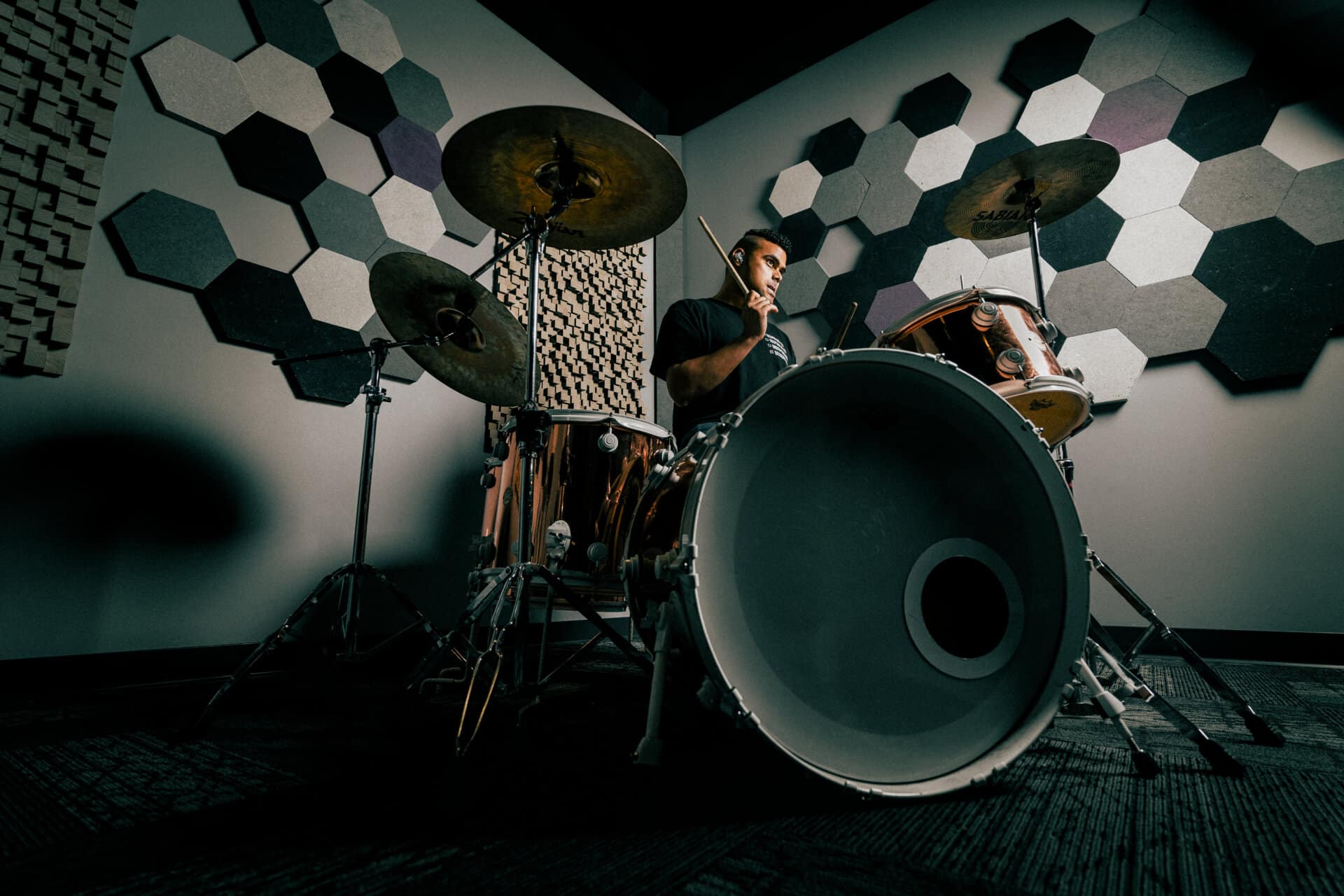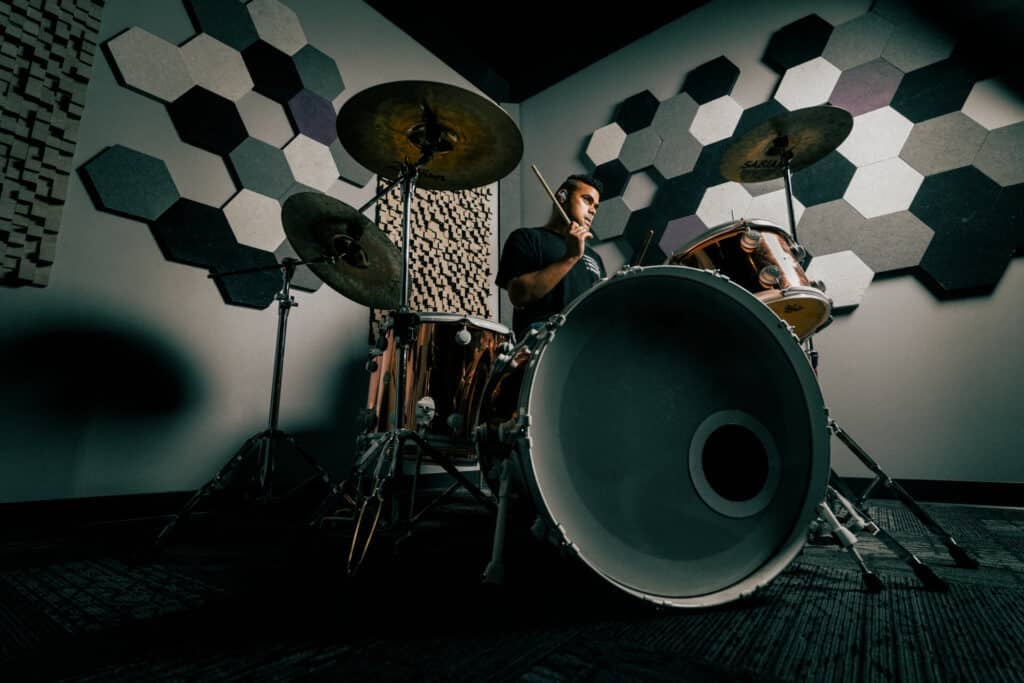 Studio B
Studio B at F.I.R.S.T. Institute is a cutting-edge audio production facility that provides students with a comprehensive learning experience in adding audio to visual mediums such as TV, film, video games, and more. The studio is thoughtfully designed to provide a professional environment where students can develop their skills in sound design, foley artistry, and Dolby Atmos mixing.
At the heart of Studio B sits the Avid S4 Control Surface, a powerful desk that offers intuitive control over the audio workflow. This versatile control surface allows students to navigate through their projects seamlessly and make precise adjustments to the mix. The Galaxy Synergy Core and Focusrite Dual Mono Mic Preamp provide pristine audio capture, ensuring that every nuance is faithfully reproduced.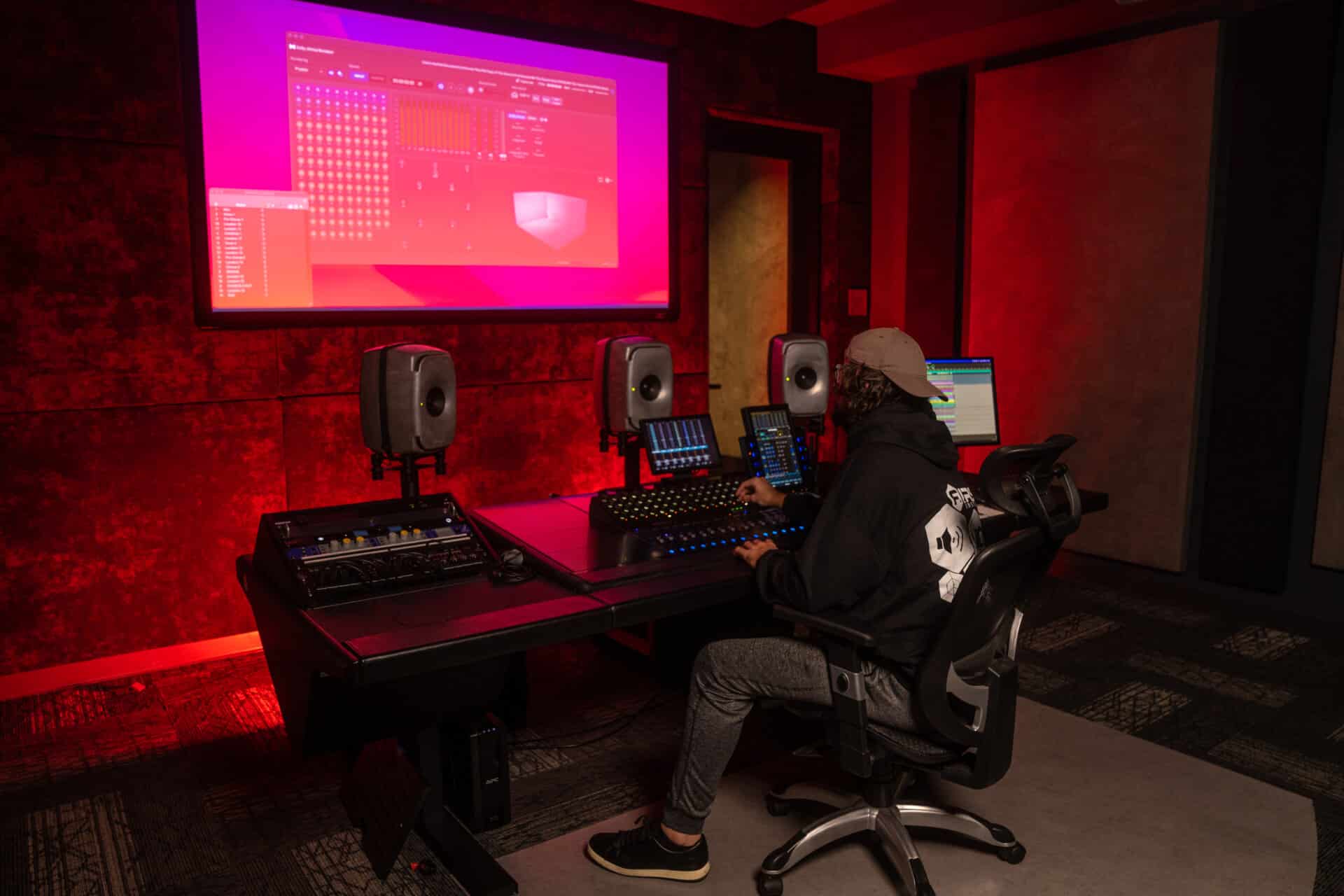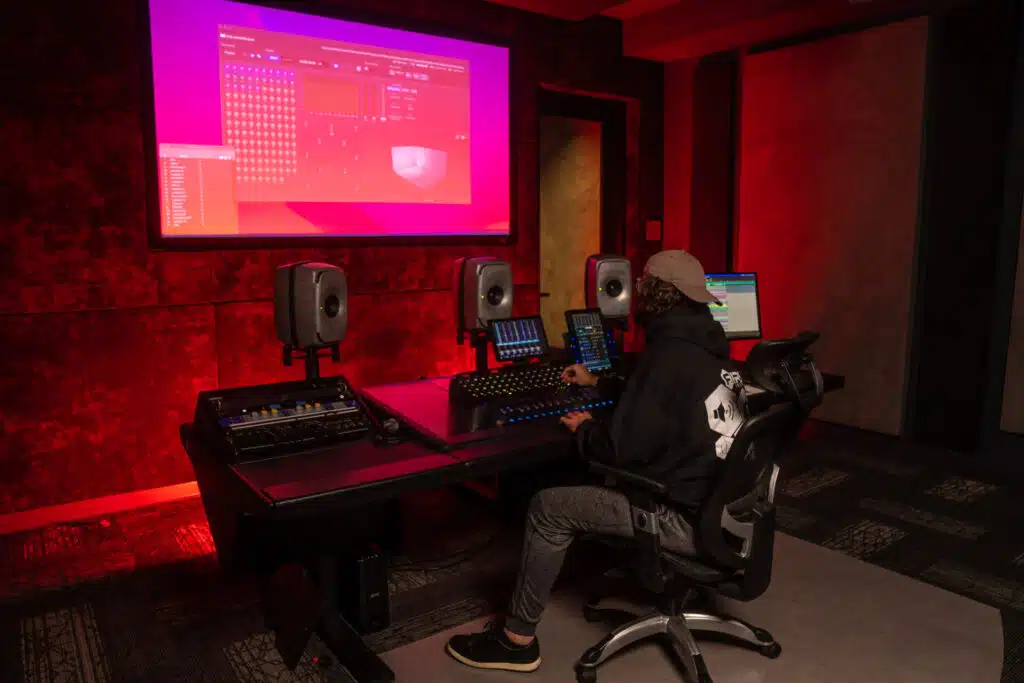 Studio B also features a dedicated foley booth, equipped with a variety of surfaces and objects. This allows students to recreate and capture a wide range of realistic sound effects using techniques such as footsteps, cloth movements, and prop interactions. The availability of Rode field kits further expands the possibilities for on-location sound recording, enabling students to capture high-quality audio in diverse environments.
In terms of software, Studio B is equipped with Pro Tools Ultimate, the industry-standard digital audio workstation. This powerful software provides students with a professional platform for recording, editing, and mixing their audio projects. Additionally, the integration of the Dolby Renderer enables students to create immersive soundscapes in Dolby Atmos, a revolutionary audio format that adds an extra dimension to storytelling.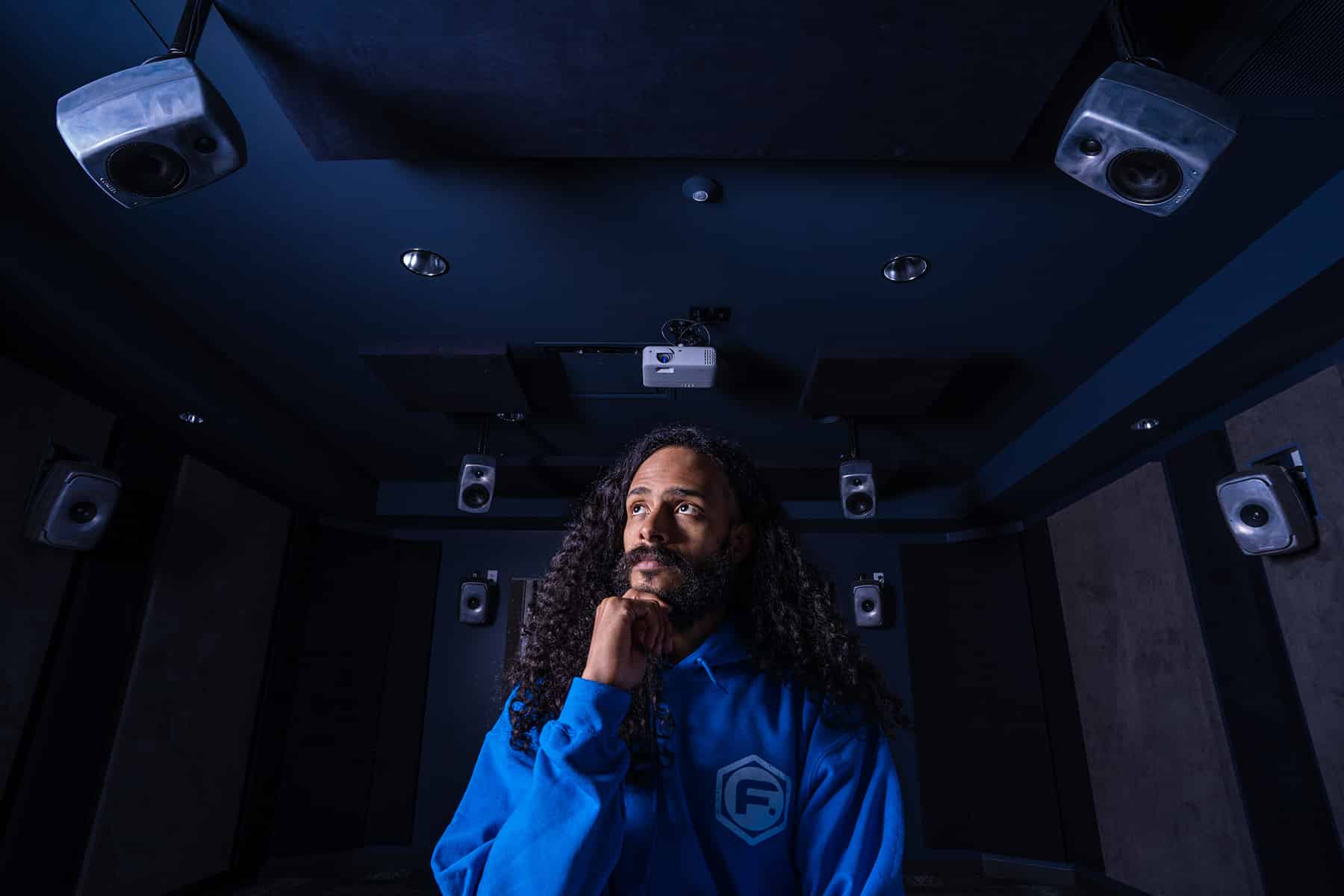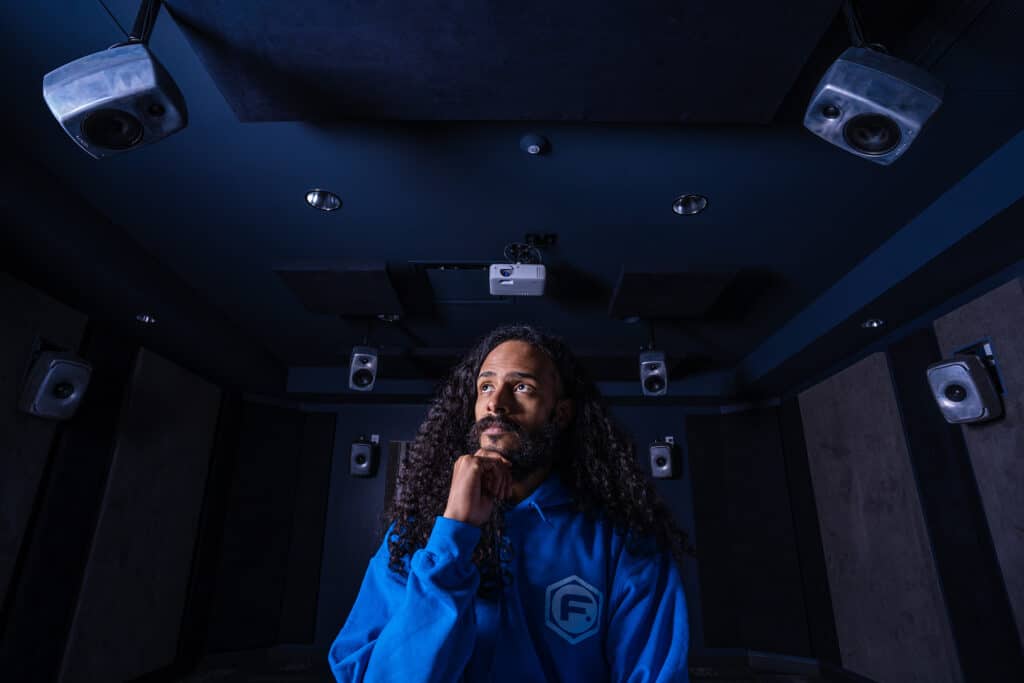 To ensure accurate monitoring and playback, Studio B is equipped with Genelec speakers, known for their exceptional audio quality and precise imaging. These speakers allow students to critically analyze their audio creations and make informed decisions during the mixing and mastering process, ensuring a high level of fidelity and detail in their work.
Overall, Studio B at F.I.R.S.T. Institute provides an immersive and industry-standard learning environment for students pursuing careers in audio production for visual media. With its advanced equipment, dedicated foley booth, software capabilities, and Dolby Atmos integration, the studio offers students the opportunity to hone their skills in sound design, foley artistry, and Dolby Atmos mixing, preparing them for the demands of the professional audio industry.
Print Shop
F.I.R.S.T. Institute's Print Shop provides students with hands-on experience in the field of printing and graphic design. The room is equipped with a range of cutting-edge equipment that allows students to bring their creative visions to life with precision and professionalism.
One of the key components of the Print Shop is the Epson Sure Color S60600 printer. This high-quality large format printer is renowned for its exceptional color accuracy and print quality. It offers students the ability to produce vibrant and detailed prints, whether it's for posters, banners, or other visual materials. The Epson Sure Color S60600 ensures that students' designs are faithfully reproduced with sharpness and clarity.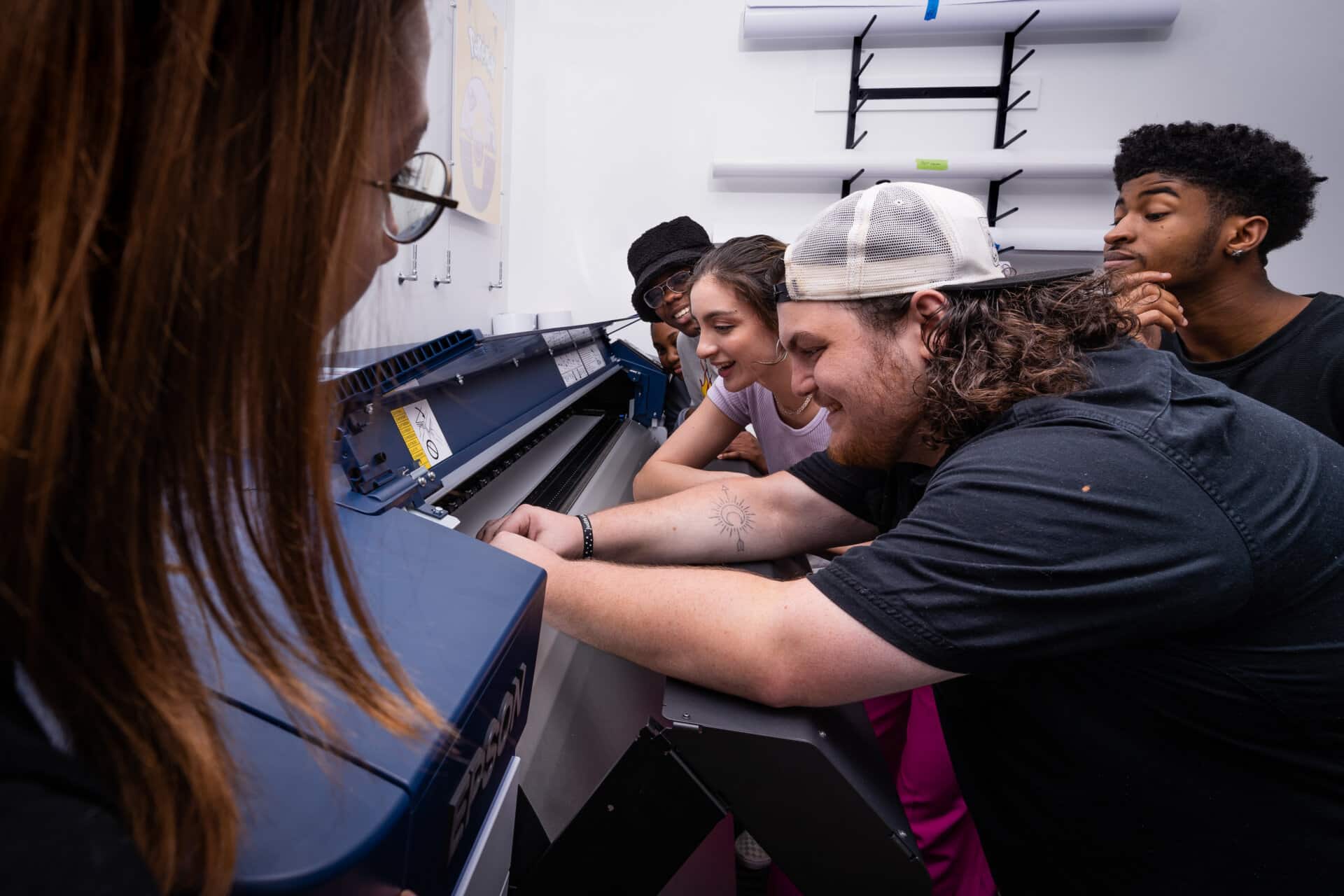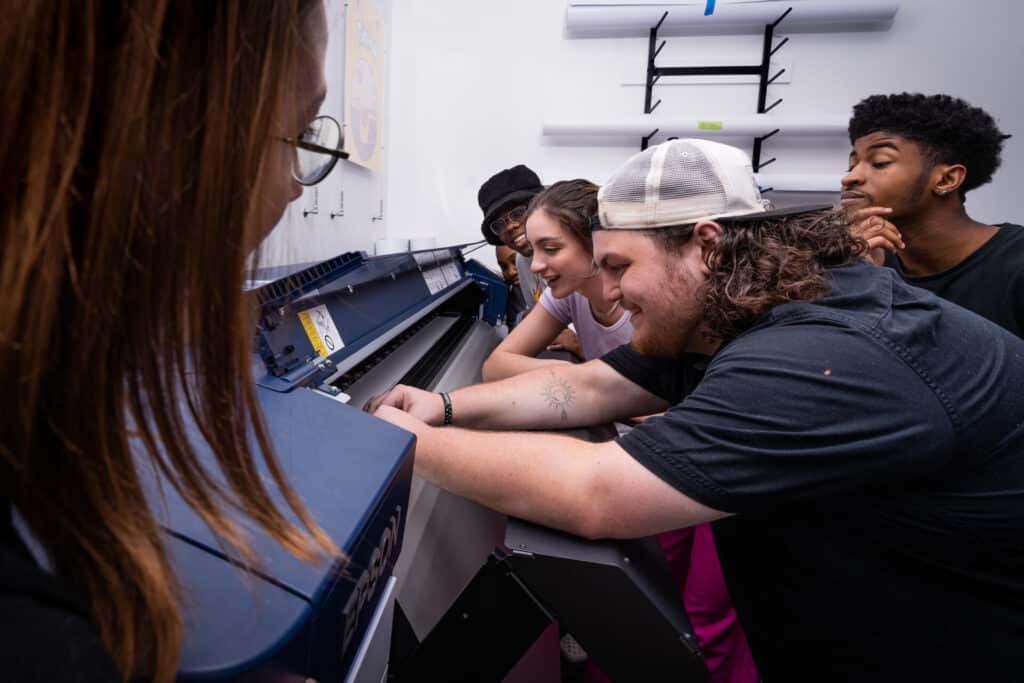 In addition to the printer, the Print Shop is equipped with a Kala Laminator, an essential tool for adding a protective layer to printed materials. The laminator enables students to enhance the durability and longevity of their prints, as well as add a professional finish. It is ideal for creating high-quality laminated posters, signs, and other graphic materials.
Furthermore, the Print Shop features a Mimaki Cutting Plotter, a versatile device that allows students to precisely cut out intricate shapes and designs. This cutting plotter opens up opportunities for creating customized stickers, decals, and signage, providing students with the ability to add an extra dimension of creativity to their projects.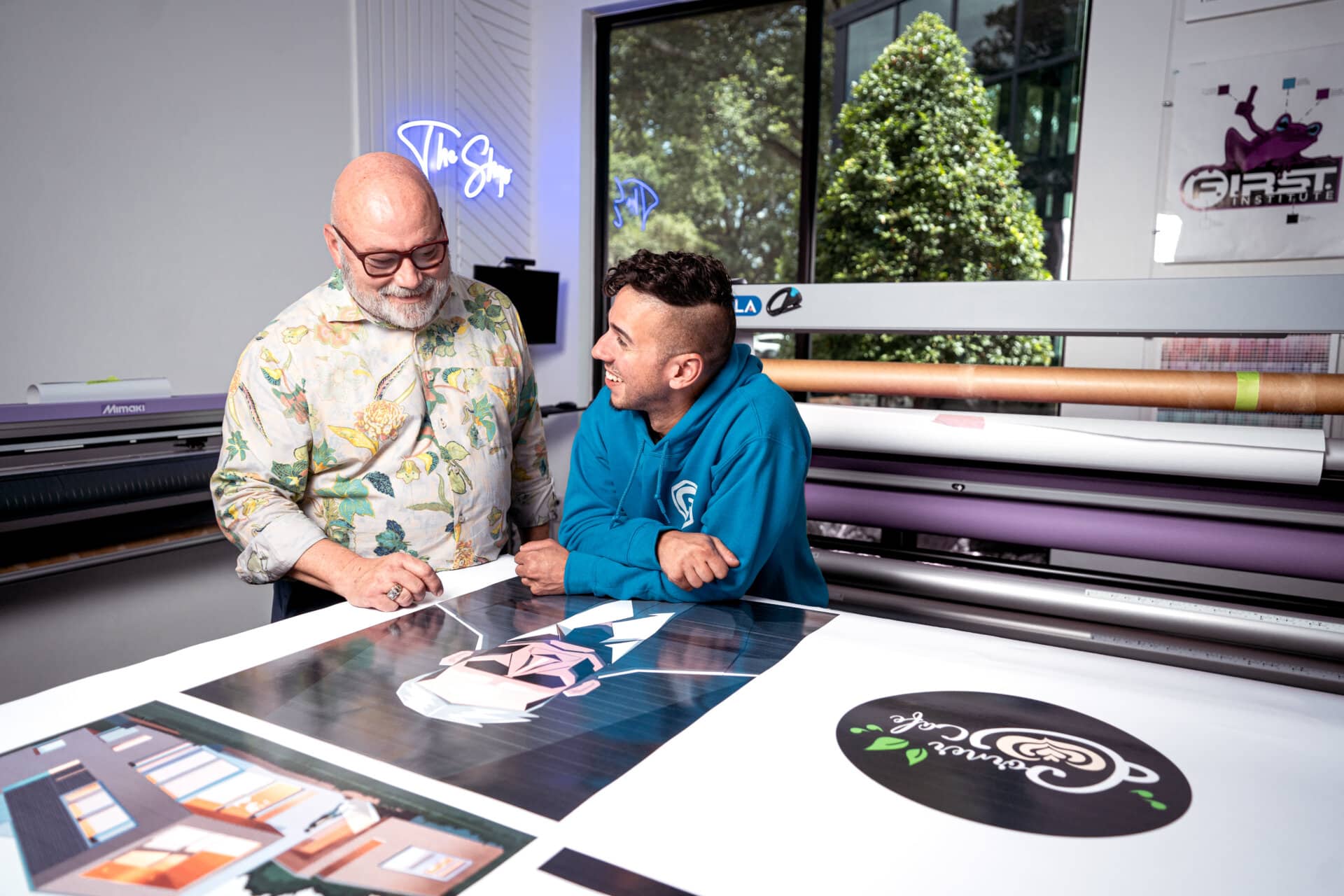 With the combination of the Epson Sure Color S60600 printer, Kala Laminator, and Mimaki Cutting Plotter, the Print Shop at F.I.R.S.T. Institute empowers students to explore their graphic design skills and produce professional-quality prints. Whether it's creating eye-catching promotional materials, customizing designs, or bringing digital creations to life, the Print Shop provides students with the tools they need to unleash their creativity and develop practical skills in the printing industry.
Sound Stage
The soundstage is a versatile and dynamic space designed to cater to various production needs. It provides students with the opportunity to work in a professional setting and gain hands-on experience in the world of film, television, and video production. The soundstage features a green screen wall, allowing for the creation of immersive visual effects and seamless integration of actors and objects into virtual environments.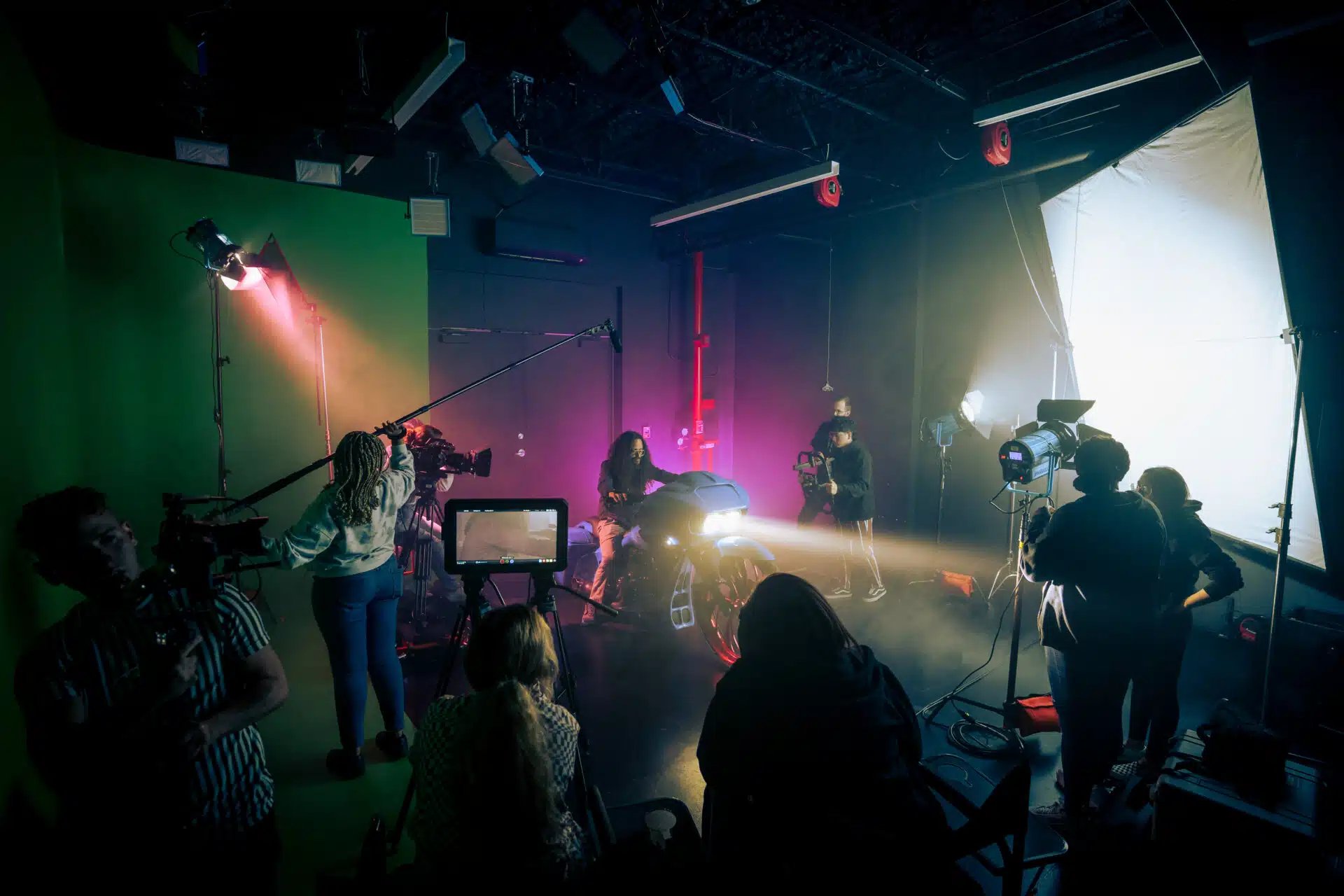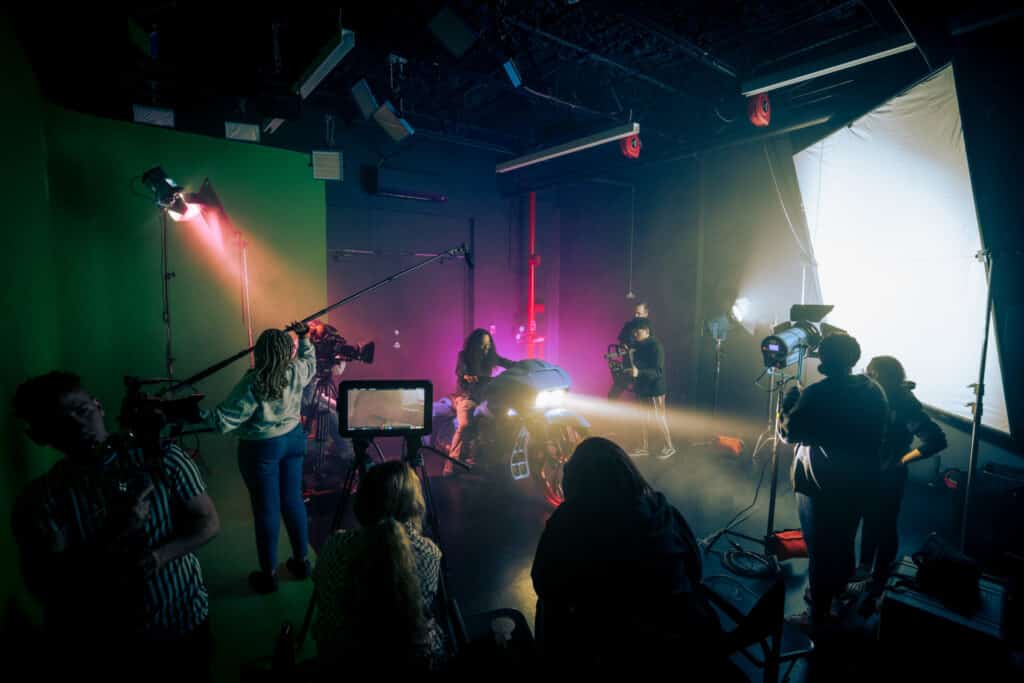 The assortment of tools available on the soundstage is extensive and diverse, providing students with everything they need to bring their creative projects to life. Our collection of cameras and accessories, includes the Blackmagic URSA Mini, Panasonic G85, Sony XDCAM, and DJI drones. These cameras provide students with versatile options for capturing high-quality footage in various shooting scenarios.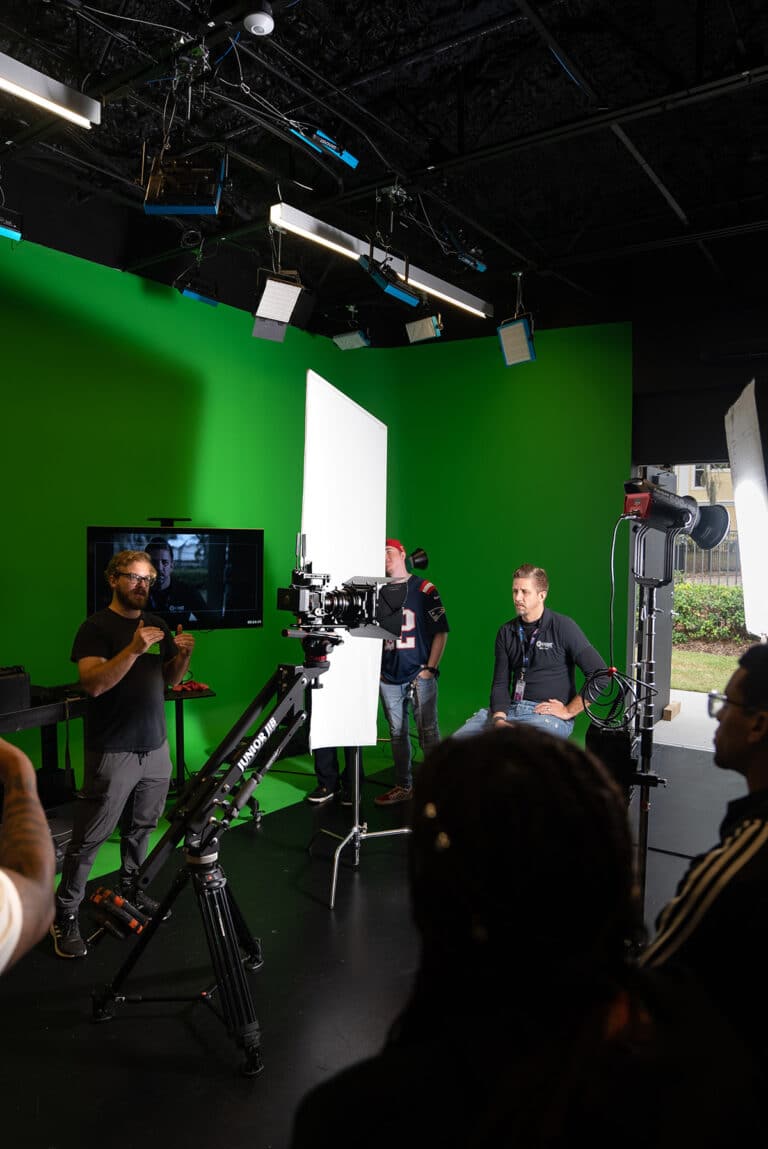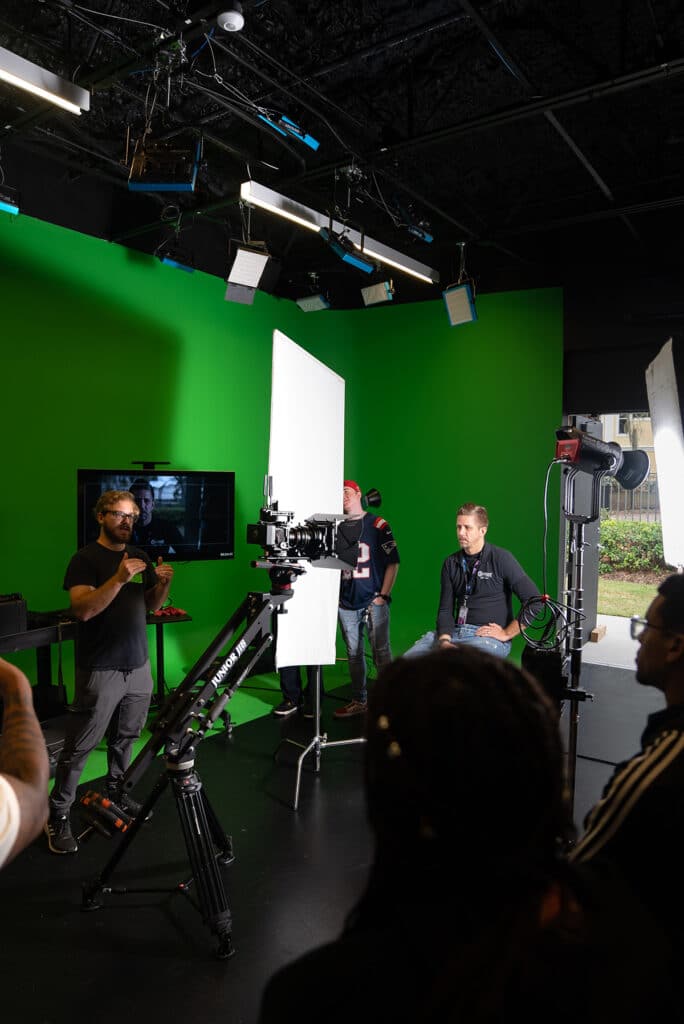 To support the visual aspects of production, the soundstage is equipped with a range of tripods, including Magnus Tripods, Benro Tripods, and Manfrotto Tripods. These tripods provide stable support for cameras and other equipment, allowing for steady and smooth shots. Additionally, the Duzi Sliders, Neewer Sliders, and Camera Dolly enable students to add dynamic and cinematic movements to their shots. For camera stabilization and mobility, the soundstage offers a selection of shoulder rigs and gimbals, including the Zacuto Shoulder Rig and Ronin SC2. These devices provide comfort and stability during handheld shooting, ensuring smooth and controlled camera movements.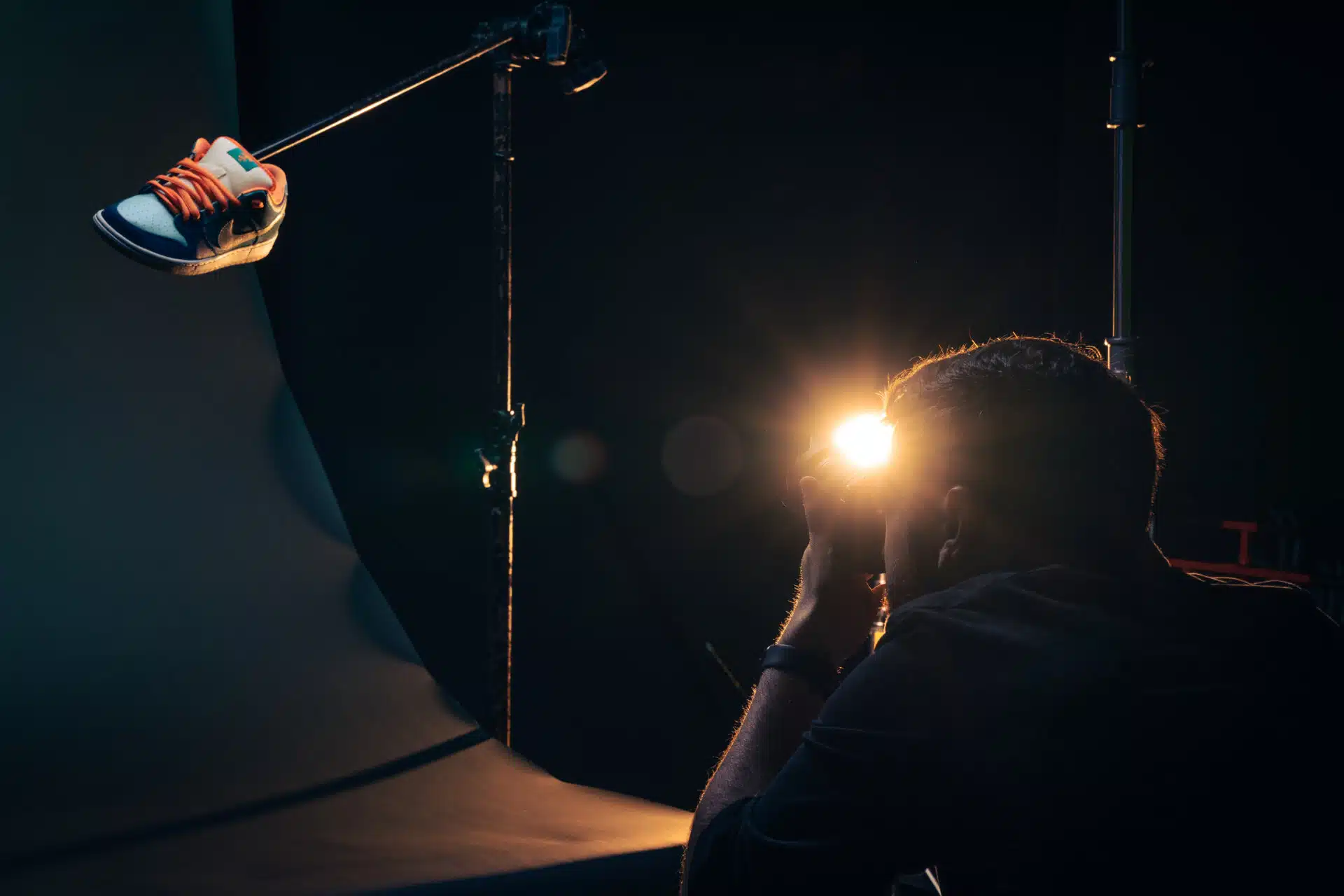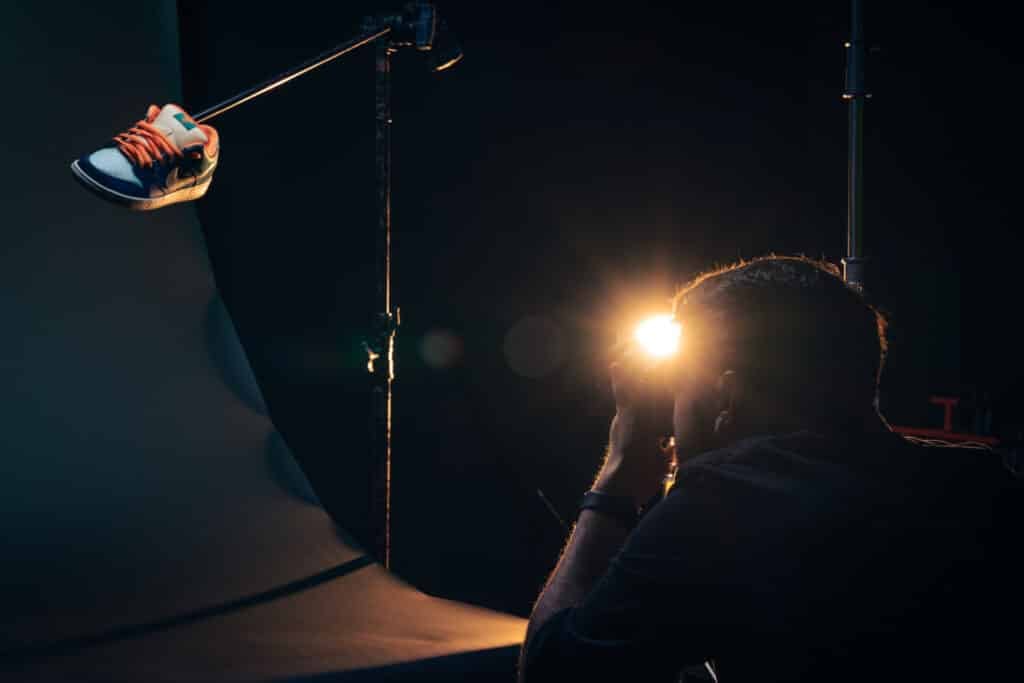 Overall, F.I.R.S.T. Institute's soundstage is a well-equipped and versatile space that empowers students to explore their creativity and develop their skills in film and video production. The soundstage provides an immersive learning environment where students can bring their visions to life and gain valuable experience in the world of visual storytelling.
Show Production
Our Show Production Hall is designed to provide students with hands-on experience in live event production and audio engineering. The hall is equipped with a wide range of professional-grade equipment that enables students to learn the intricacies of show production and create immersive audio experiences.
The microphone selection in the Show Production Hall includes renowned models such as the Shure Beta 52a, SM58, SM57, and SM81, as well as the Sennheiser e604 and e609. These microphones offer exceptional clarity and versatility, ensuring optimal sound capture for various instruments and vocal performances. The dbx Driverack Measurement Mic enhances the room's acoustic analysis capabilities, facilitating precise sound system calibration and optimization.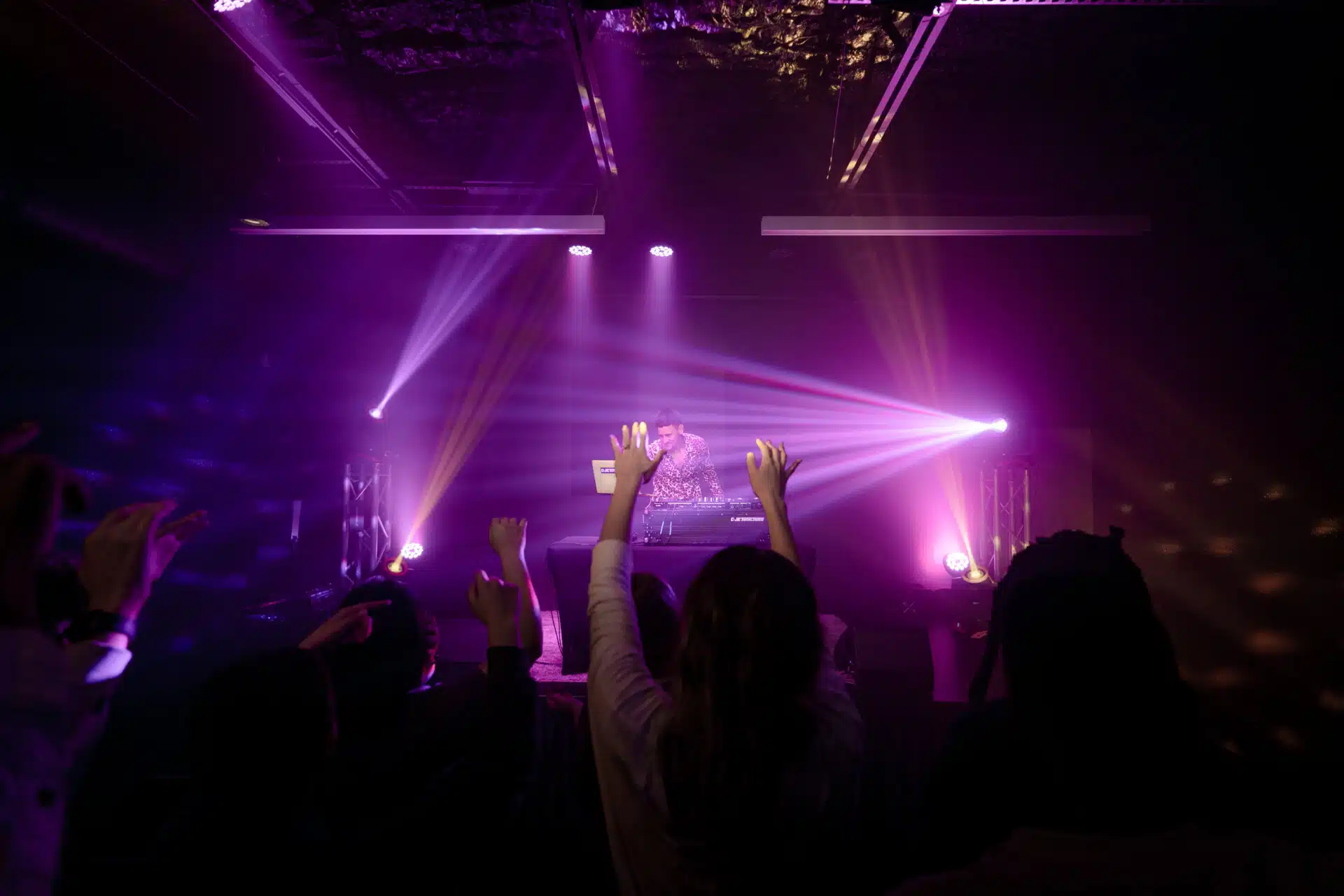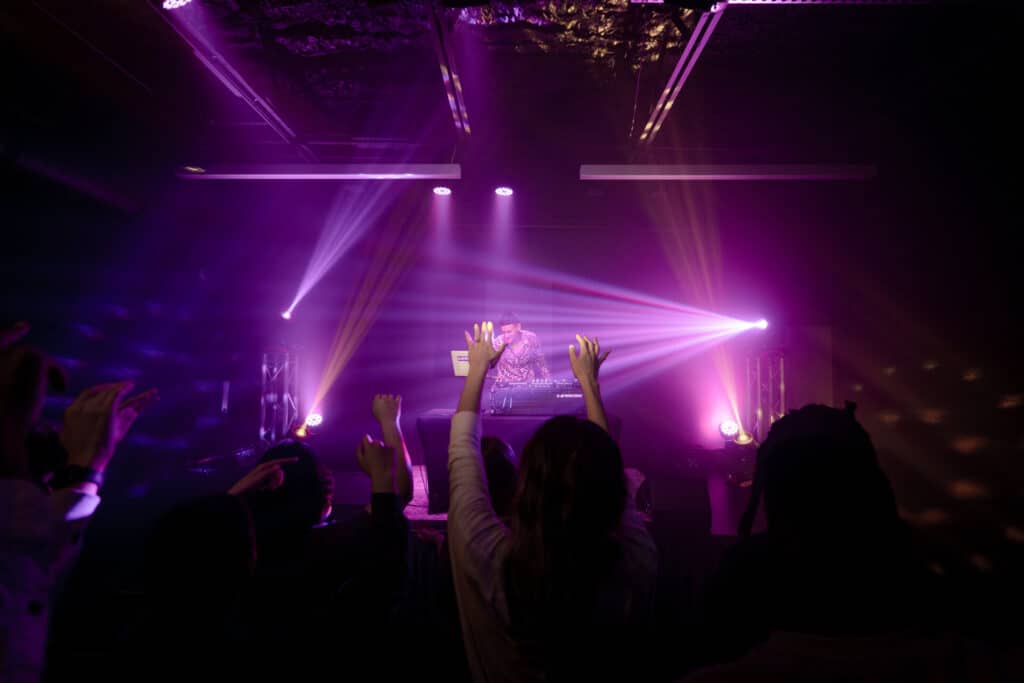 The centerpiece of the hall's audio setup is the Behringer X32 and X32 Producer digital mixing consoles. These powerful consoles provide students with comprehensive control over the live sound production process, offering advanced features and flexible routing options. The Mackie 1642VLZ4 mixer serves as an additional mixing option, allowing students to work with analog audio signals.
To control and automate the production workflow, the hall is equipped with the Behringer XTouch Universal Control Surface and ETC Gadget II Universal Port. These tools enable students to manage lighting, audio, and visual elements seamlessly, ensuring smooth and synchronized performances.
The sound reinforcement system in the Show Production Hall consists of high-quality speakers, including the Yamaha DXR 15 MK II, Electro-Voice PXM 800, JBL PRX 800, JBL STX 800, and JBL SRX 800. These speakers deliver powerful and clear audio reproduction, ensuring an immersive experience for the audience.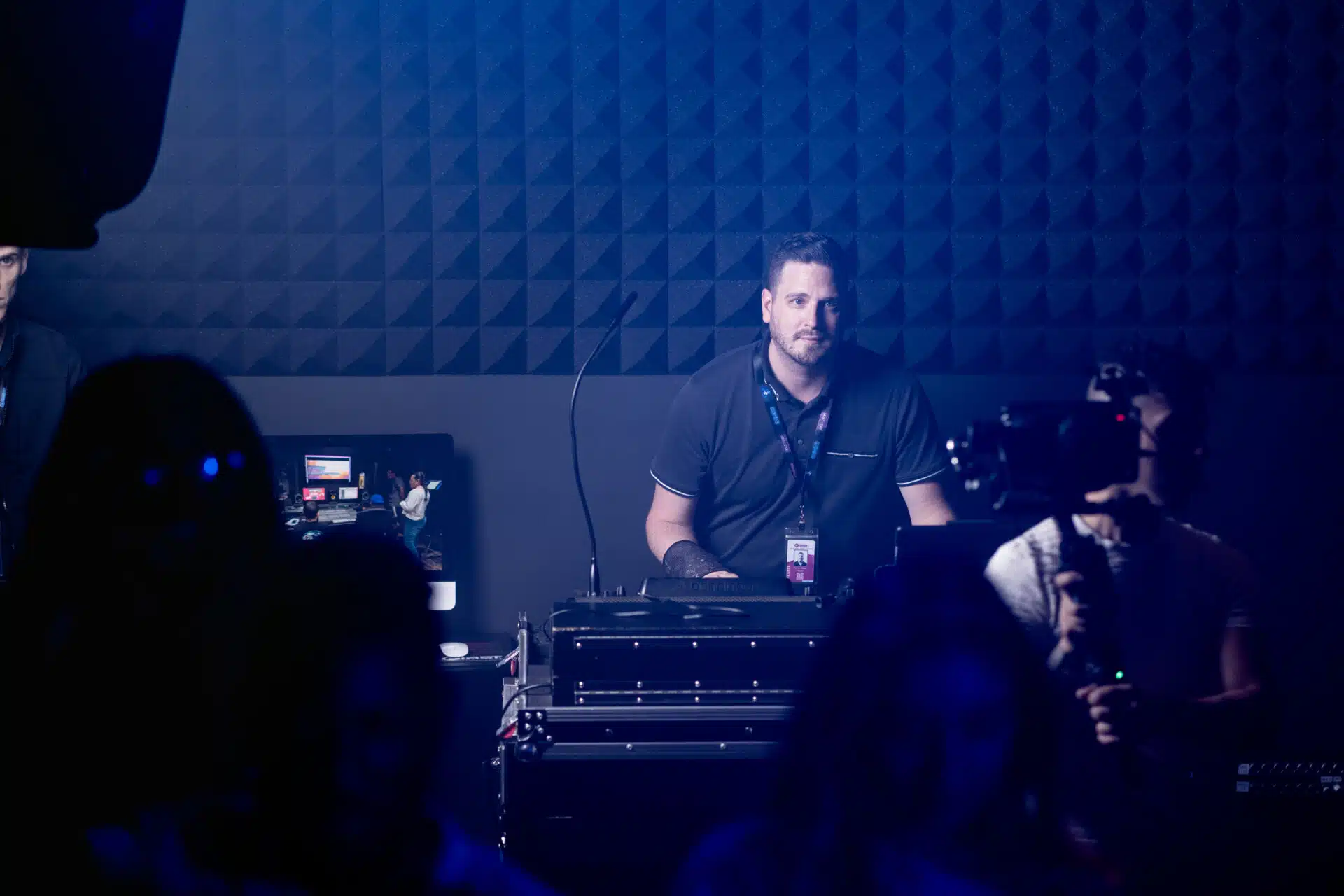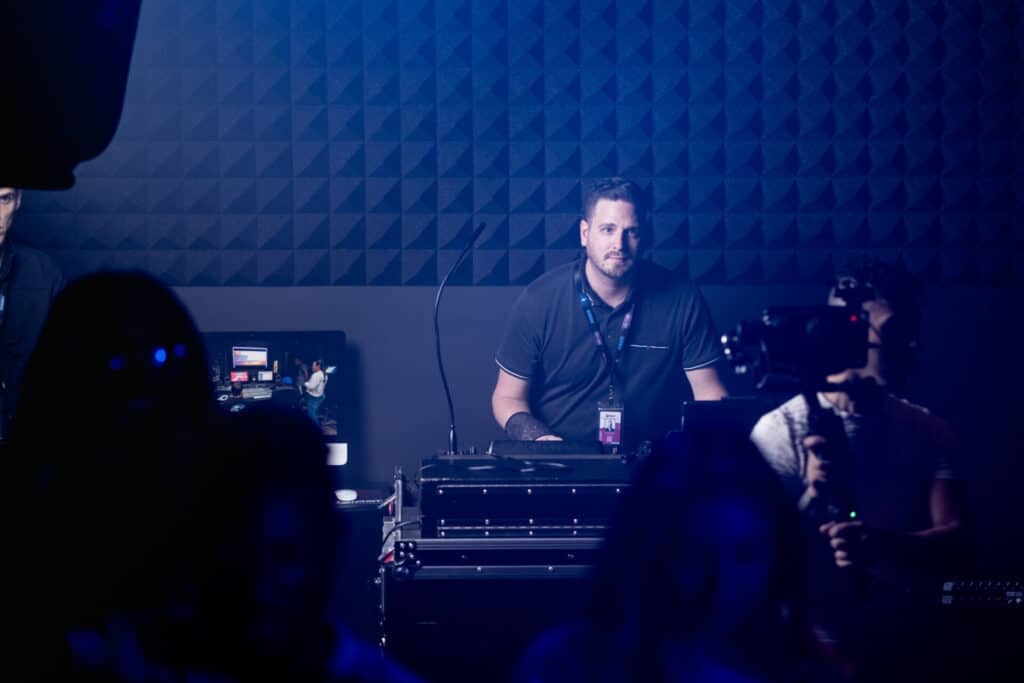 For power distribution and management, the hall features the Crown 6002XTI amplifier, LEX Power Distro, and Sennheiser A-1031 antenna. These components ensure reliable and efficient power distribution, as well as optimal wireless signal reception.
The Sennheiser wireless systems available in the Show Production Hall include the EW 300 IEM, EW 300 G3 IEM, EW 300 G3, EW G4, EW 300 G3 LAV, EW G4 Handheld, and EW 300 G3 Handheld. These systems offer students the opportunity to learn about wireless microphone technology and effectively manage audio monitoring and transmission during live performances.
In addition to the audio equipment, the Show Production Hall houses various instruments and accessories. The KORG Keyboard XE20 and On Stage Keyboard Stand provide students with a platform for musical performances and composition. The Pacific Drum Hardware, Mapex Pro M Drum Set, Zildjian Avedis Crash Ride Cymbal, and Zildjian A Custom Hi-Hat Cymbal offer students the opportunity to explore drumming and rhythm in live production settings.
Our Show Production Hall offers a comprehensive and immersive learning environment for students interested in live event production. With its extensive array of microphones, mixing consoles, speakers, wireless systems, and musical instruments, the hall enables students to develop their skills in audio engineering, stage management, and live sound production, preparing them for successful careers in the industry.
Podcast Room
The Podcast Room is a dedicated space designed to provide students with a professional environment for recording and producing podcasts. Equipped with top-of-the-line equipment, the room ensures high-quality audio and video production for engaging and polished podcast episodes.
At the heart of the Podcast Room are the Shure SM7b microphones, renowned for their exceptional sound quality and versatility. These microphones capture clear and broadcast-grade audio, allowing podcasters to deliver their content with professional clarity and presence.
To complement the audio recording setup, the room is equipped with Blackmagic 4k Studio Plus Cameras, which offer high-resolution video capture for creating visually appealing podcasts. The cameras provide students with the ability to capture sharp and detailed video footage, adding a visually engaging element to their podcast episodes.
To ensure optimal lighting conditions, the room features Amaran 200x lights. These lights provide adjustable brightness and color temperature, allowing podcasters to achieve well-lit and visually pleasing setups. The lighting setup enhances the overall aesthetics of the podcast recordings and helps create a professional and polished visual presentation.
For seamless live switching and production, the Podcast Room is equipped with the Blackmagic Atem Mini ISO. This versatile video switcher allows students to switch between multiple camera angles, incorporate graphics, and control the overall visual presentation of their podcasts. The Atem Mini ISO enables students to create dynamic and visually engaging podcast episodes.
To streamline the audio production process, the room is equipped with the Rodecaster Pro 2, a comprehensive podcast production studio. This all-in-one solution provides students with a user-friendly interface for recording, editing, and mixing their podcast audio. The Rodecaster Pro 2 offers intuitive controls, built-in sound effects, and professional-grade audio processing, enabling students to create well-balanced and professional-sounding podcast episodes.
Additionally, the Podcast Room features ProTools Studio, a widely used digital audio workstation that offers advanced editing, mixing, and mastering capabilities. ProTools Studio provides students with a powerful toolset to enhance the quality of their podcast audio and achieve industry-standard production quality.
Overall, F.I.R.S.T. Institute's Podcast Room offers students a well-equipped and professional space to explore the world of podcasting. With the Shure SM7b microphones, Blackmagic 4k Studio Plus Cameras, Amaran 200x lights, Blackmagic Atem mini iso, Rodecaster Pro 2, and ProTools Studio, students have access to cutting-edge equipment that enables them to produce high-quality, visually appealing, and engaging podcast content.
In conclusion, F.I.R.S.T. Institute's campus is undeniably a haven for turning creativity into a promising career in the media industry. With its cutting-edge facility, industry professional faculty, and hands-on learning opportunities, the institute provides aspiring media professionals with an immersive and industry-standard environment to nurture their talents. Whether it's the recording studios, the print shop, the versatile and dynamic soundstage, or the professional podcasting capabilities of the podcast room, F.I.R.S.T. Institute leaves no stone unturned in preparing students for success in their chosen fields. The campus not only fosters creativity but also provides the tools and knowledge necessary for students to thrive in the competitive world of media, making it a top choice for those seeking a transformative educational experience.