Unleash your creativity and turn your passion for design into a career. Design is everywhere around us, from the pages of magazines to the signs on the street. If you find joy in analyzing logos, playing with shapes and colors, and examining website layouts, then a career in the graphic and web design industry could be perfect for you!
F.I.R.S.T. Institute's Graphic Design & Web Development program provides a comprehensive education that will immerse you in the exciting world of design. In this program, you will obtain the essential skills and knowledge needed for success in the design industry. From computer-based design and digital media fundamentals to illustrations, photography, and web design, we cover it all.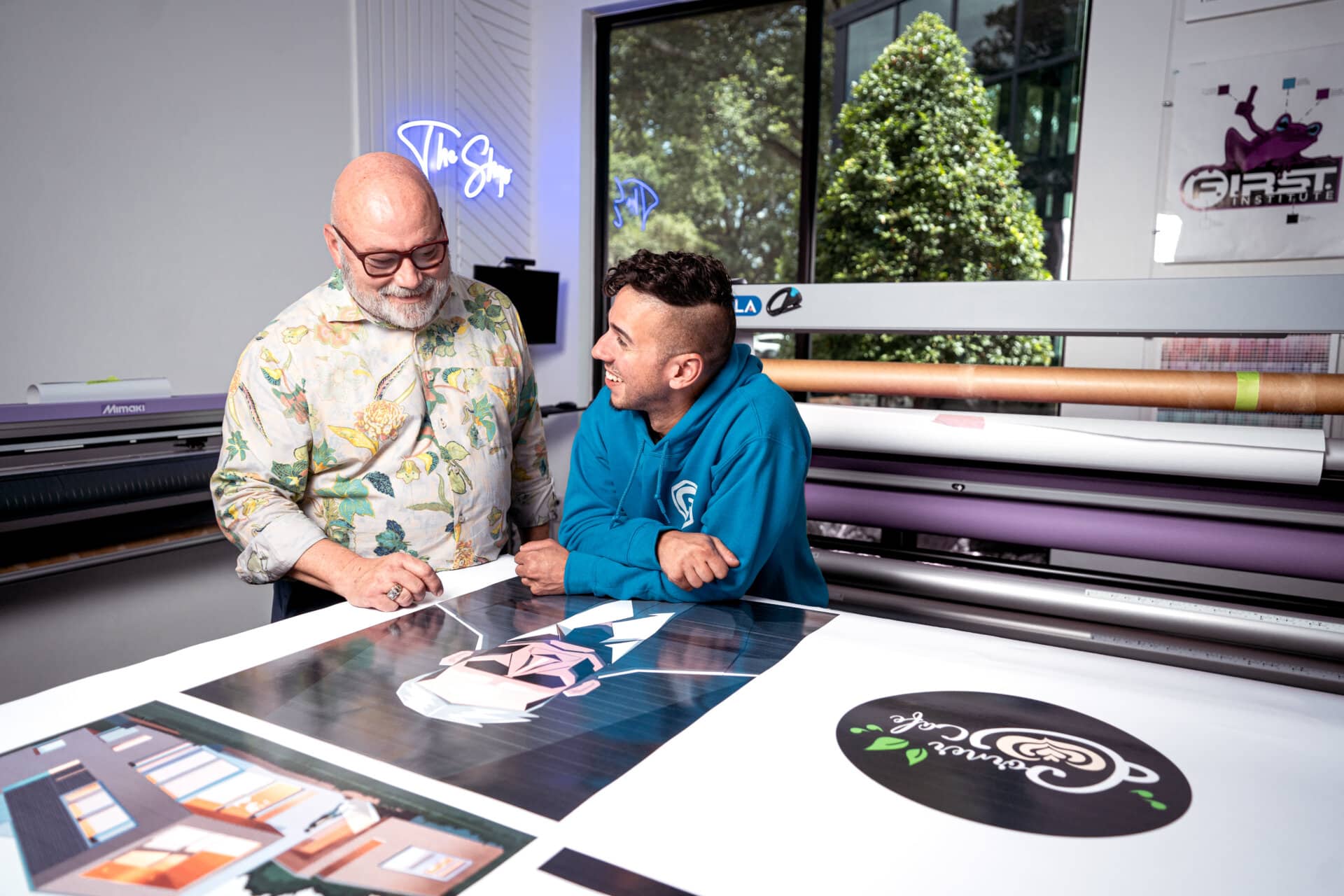 This program is crafted to introduce students to the various niches within the industry. The areas covered in this program are graphic design principles, digital illustration, graphic design software, UI/UX design, web design and development, motion graphics, layout design, and portfolio design. With a combination of hands-on projects and classroom instruction, students will be able to build a strong foundation upon which to develop their careers. By the end of the course, their creativity and technical skills will soar, and they will have a strong portfolio enabling them to find entry-level opportunities in this exciting field.
Career-Focused
From day one, students dive headfirst into the real-world projects that professionals in the industry encounter every day. Equipped with the tools of the trade, they are given the opportunity to get hands-on experience with design software and coding languages. What sets this program apart is that each project builds on the next, allowing students to build a solid portfolio by the time they complete the program. The emphasis on practical experience not only prepares students for the workforce upon graduation but also allows them to develop confidence in their skills.
Learning From Professionals
At F.I.R.S.T. Institute, all of our programs are taught by industry professionals, providing students with real-life experiences from experts who have worked with companies such as ABC Networks, Disney, the NFL, Coca-Cola, and more. Our instructors bring their significant industry knowledge to the classroom, allowing students to get the support they need while developing their careers in their respective fields. Our instructors are not only highly qualified in their fields, but they are also passionate about teaching and helping students grow professionally. The fact that the instructors are still active in the industry allows them to bring a unique and up-to-date knowledge base to the classroom.

Where Do Our Grads Work?
F.I.R.S.T.'s graphics and web program has catapulted students' careers to some amazing places. Our grads have joined the ranks of some major industry players such as Universal Studios, the US National Soccer Team, the WNBA, cutting-edge tech startups, and high-profile marketing agencies.
Today's graduates are witnessing the immense potential in the graphics and web industry. With more and more businesses and organizations moving their operations to digital formats. The requirement for having knowledgeable and skilled associates or freelancers at your disposal has never been higher. To read more about our graduates we highly suggest reviewing our Graphic Design & Web Development graduate stories page.
To conclude, F.I.R.S.T. Institute provides students with an engaging and career-focused learning environment that allows them to develop the skills necessary for success in the design industry. Our faculty are well-respected industry professionals who bring valuable insight to the courses, giving students a tremendous advantage when looking for jobs or internships after graduation. If you're looking to pursue a career in this exciting field, consider touring our Graphic Design & Web Development program at F.I.R.S.T Institute and seeing firsthand how it can jumpstart your career aspirations!