Film school graduate Theo Christofore is living many film students' dream: he's founded his own media production company and is filming projects that he's passionate about. Learn more about Theo's filmmaking success and his plans for the future in today's Film Graduate Spotlight!
---
WHEN DID YOU FIRST START GETTING INTERESTED IN THE FILM INDUSTRY?
It was probably in high school, we had a pretty good video program at school with a full broadcast studio and I took advantage of that. I also did extreme sports as a kid: rollerblading, snowboarding, things like that. We filmed ourselves doing that and we would put out DVDs. Over time, I got a little more interested in the technical aspect of making the DVDs instead of doing the sports myself. I totally transitioned into that and I got very interested in it.
WHAT SPARKED YOUR PASSION FOR FILMMAKING ORIGINALLY?
It definitely runs in my family a little. My older brother toured the world with a band in the 90's, and my Uncle is a successful audio engineer who also did a lot of touring. I think that inspired me a little bit, just through family.
WHEN DID YOU DECIDE TO PURSUE THIS AS A CAREER?
I think I kinda knew by the time I was done with high school that I should try and make something happen with it. When I initially enrolled at F.I.R.S.T. Institute, I was interested in the film and entertainment business, but then I gravitated more toward the recording studio. I felt like I knew a lot about cameras, but audio was like this world of unknowns to me. It was intriguing. Sound and film go hand in hand, and these are the skills that continue to inspire my career.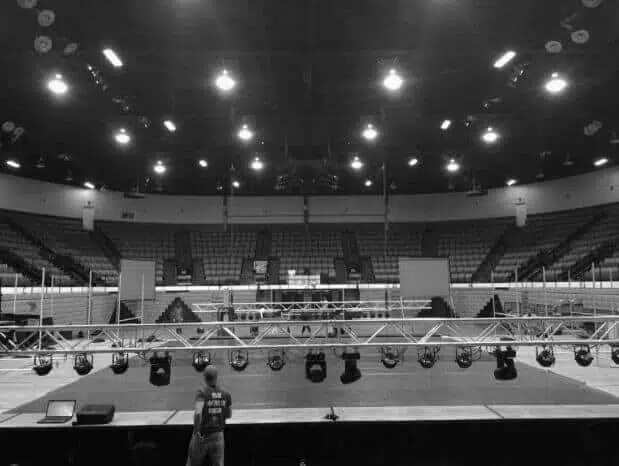 WHAT'S YOUR ROLE AT YOUR CURRENT JOB?
Technical Director/Founder at Infinitree Media.
Now, we have a studio/shop in Northeast Arts District of Minneapolis in the Northrup King building. It's pretty cool. We just had USA Today give us the nation's largest open studio gallery. Our building has a great community with over 250 artists, and has really helped us with promoting the business.
Recently, a lot of what we've been up to has been really geared toward production and providing production for live shows. We've been filling up our shop with live sound equipment and lighting and everything you might need to film a concert.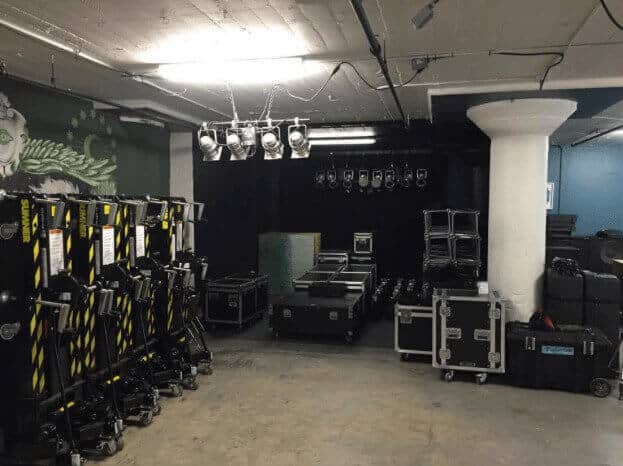 WHAT MADE YOU WANT TO GO TO A SCHOOL VERSUS LEARNING ON YOUR OWN?
I think when you're going to film school you gain a lot of relationships and contacts that you wouldn't have otherwise. It's the same with a lot of people I talk to in the industry, it really can help you start to build your ability to network. It's a small industry, even on a national level, and to be able to connect with those people really helps you get off the ground. One thing I really loved about the courses at F.I.R.S.T Institute was learning from working industry professionals. Connecting with instructors on that personal level helped me understand how this business works.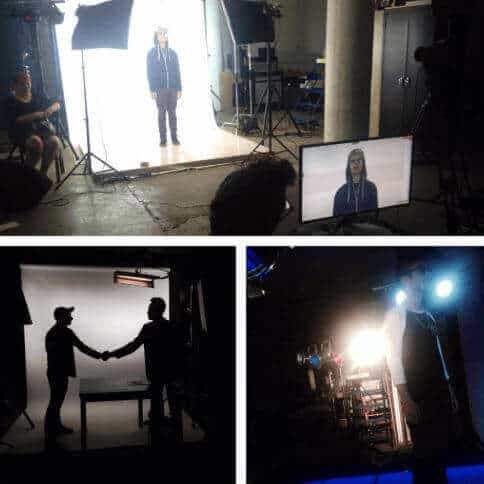 WHAT WERE YOUR GOALS WHEN YOU WERE JUST STARTING OUT IN FILMMAKING?
You know, I have to think back. I was never super interested in working on big movie sets or anything like that, I always liked the idea of having a smaller independent company and working for other independent people, which is still kind of what we do. Every now and then we have a corporate gig or commercial shoot, but I love working with musicians and people that are doing start ups and things like that.
I guess my goal has changed quite a bit in the sense that I would have never thought I would be doing as much production work as we are. My current goals wouldn't even exist if it wasn't for learning those audio basics at F.I.R.S.T. Institute. I think it is important to be flexible with goals, however. Things are definitely going to change, the industry is always changing, and the direction of where you want to go is most likely going to change, too.
SINCE GRADUATION, CAN YOU TELL ME ABOUT SOME OF THE INTERESTING WORK YOU HAVE DONE IN THIS INDUSTRY?
Fresh out of school I started working with a band called Jon Wayne and the Pain and they gave us a good foothold in the industry and really helped us get started. Since then we've worked with all sorts of bands and I love doing that type of work.
The one client that stands for being pretty unique is probably the work we've done with Midwest Starz. I think that one was the most relevant to what I learned at school; basically they tour around the Midwest putting on dance competitions, and the technical aspect of the production is pretty cool. We set up all the production staging, lighting, rigging and sound and then there's also a full video production that goes on. We set up projector screens and everything is done on a live switcher board. We film and edit every dance routine live on the spot, and then we sell those videos to the parents and families. We tour with them from January to June so we are on the road pretty much every weekend.


WHAT'S THE MOST REWARDING PART OF YOUR JOB?
I get a lot of pleasure from the work I do. Sometimes we have 7 hour set up times with a 5 person crew, and just seeing what can get done in that amount of time is pretty amazing. Seeing the dedication within the team to make sure a great show happens is very rewarding. It's also a nice bonus when people go out of their way to show appreciation, like when bands give shout outs or special thanks to the crew during the show and things like that.
IS THERE ANYTHING WE CAN LOOK FORWARD TO SEEING COME FROM YOU IN THE FUTURE?
Recently we did a show with a local jazz/funk band called Pho. We're about to put out a full length live video of the performance where we did all the editing, recording, lighting and sound and we'll be releasing that in the next few weeks.
PHO – Dr. Drake @ Triple Rock Minneapolis from INFINITREE Media on Vimeo.
3-5 YEARS FROM NOW, WHAT DO YOUR CAREER GOALS LOOK LIKE?
One of my main goals is finding some good land up North. Rent is high in the city, so we'd like to get a big barn up on some land and start running the business out of that. Basically, I'd just like to continue to grow this business doing bigger and better shows, maybe another movie project. The documentary being released in April is our first feature length project, but it'd be cool to do more of those. Overall the goal is just to keep expanding, we're constantly re-investing most of what we have back in the company. I definitely see myself staying with the same company and seeing it grow.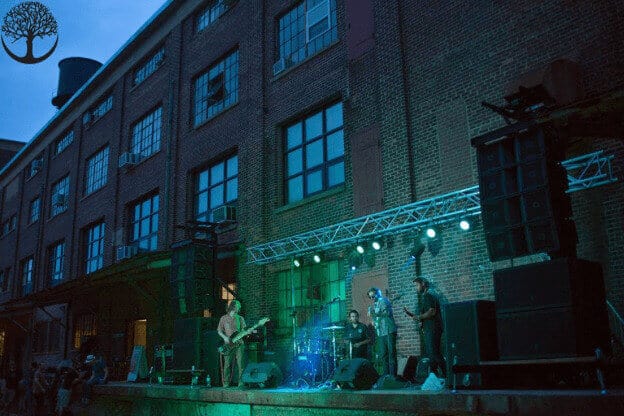 HOW DID ATTENDING F.I.R.S.T. INSTITUTE IMPACT YOUR LIFE/CAREER?
I don't think I would have gotten as interested in audio if I hadn't gone there. I was already pretty immersed in the film side of things. Now, providing sound reinforcement is one the main things that our company does so I'd say that was pretty huge. Learning signal flow in the studio is very relatable to what we do at live shows. I've really used a lot of that knowledge that I gained there in the live events that I do so often now. I don't think I would have gotten into the audio side of the industry and I'm definitely thankful that I did.
WHAT ADVICE WOULD YOU GIVE TO SOMEONE WHO IS LOOKING TO GET STARTED IN THE FILM INDUSTRY?
I'd say firstly that you're going to want to be able to handle a large coffee order. But realistically, just stay persistent. It can be kind of a hard industry and there's a lot of avenues that you can go, so I'd say keep going and just keep trying until you find your place.
Stay up to date on the latest technologies. What is the new industry standard equipment? How do you operate it? The information is out there you just gotta read about it. Real world and hands on experience are the absolute most important in my mind. Do that in any way that you can, do whatever you have to do to make those experiences, and prove that you want a job in this industry.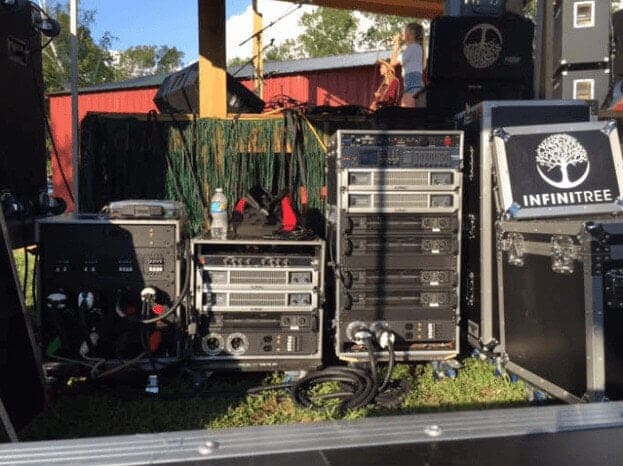 ---
Be Our Next Film School Spotlight!
There are many careers in the film industry available, and you can start on the road to yours like Theo did by enrolling at F.I.R.S.T. Institute's Film and Video Production School. There's no better place to learn hands on, in real studio settings, with small class sizes. Faculty at F.I.R.S.T. Institute's Orlando film school are working film industry professionals who have a passion for mentoring the next generation of filmmakers.
Contact us today for more information on how you can launch a career in the film industry and even take a video tour of the campus. Start on your path to any number of film careers at one of the best film schools in Florida today!