The World by (Graphic) Design.
When most people hear the words Graphic Design, they, more often than not, think about the flashy logo of their favorite pair of shoes or even the latest cup from a favorite coffee place, but have you ever stopped and wondered why they chose that particular design? Graphic Design is more than just coming up with a new logo. It is also about how that logo or design will impact the viewer. Graphic Designers carefully and methodically use everything from psychology to marketing techniques when they come up with a new design. Even the website you are on right now was carefully thought out, from the color schemes to its layout, to make it more appealing. If you find yourself interested in this field, then you have come to the right place. I recently sat down with Catherine Perez, one of the Graphic Design instructors here at F.I.R.S.T. and had her tell us a little more about what it's like to be a designer and teach Graphic Design.
Tell us a little bit about your background in the industry.
I started my Graphic Design background, I would have to say, in high school. They had just brought in computers to the school. Can you believe that? That brings me back to 1992! (she laughs at the thought of it.) So I was taking computer classes and going into my paint (program) going outside of what I was supposed to do, and that's kind of what stirred it up, and my computer teacher said oh you should go into something like animation. Right after I graduated high school, I went to technical school for desktop publishing at the time. After that, I went to another technical school and studied Graphic Design. It wasn't just desktop publishing, but it also included animation and flash and things of that nature.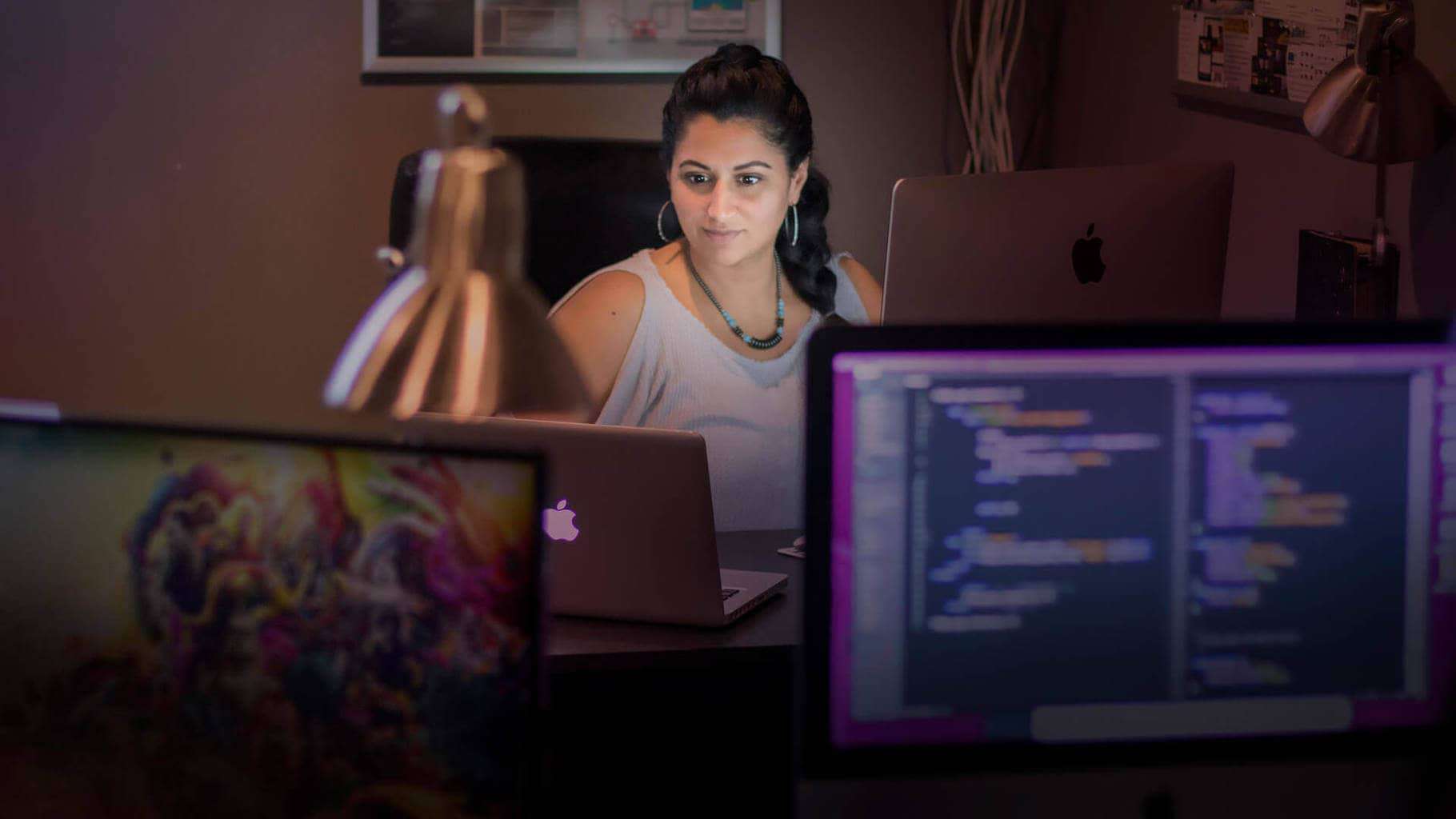 Was there anything in particular that made you want to get into Graphic Design?
It Really wasn't a trend yet, at least not where I lived. I'm from New Jersey, so that area was just the working class. So going to college, you were either going to be an attorney or a doctor or even working an office job. So for me, there wasn't; I just always loved art and hands-on crafts and things of that nature.
How is Graphic Design incorporated into the world today?
Unless you live in a cave, it is in everything (she laughs.) Nowadays, you have designers that have to go to college and learn psychology and the behavior of humans so that it can relate to design. it is a bigger thing than just Graphic Design. Everyone uses Graphic Design and sometimes doesn't even know it.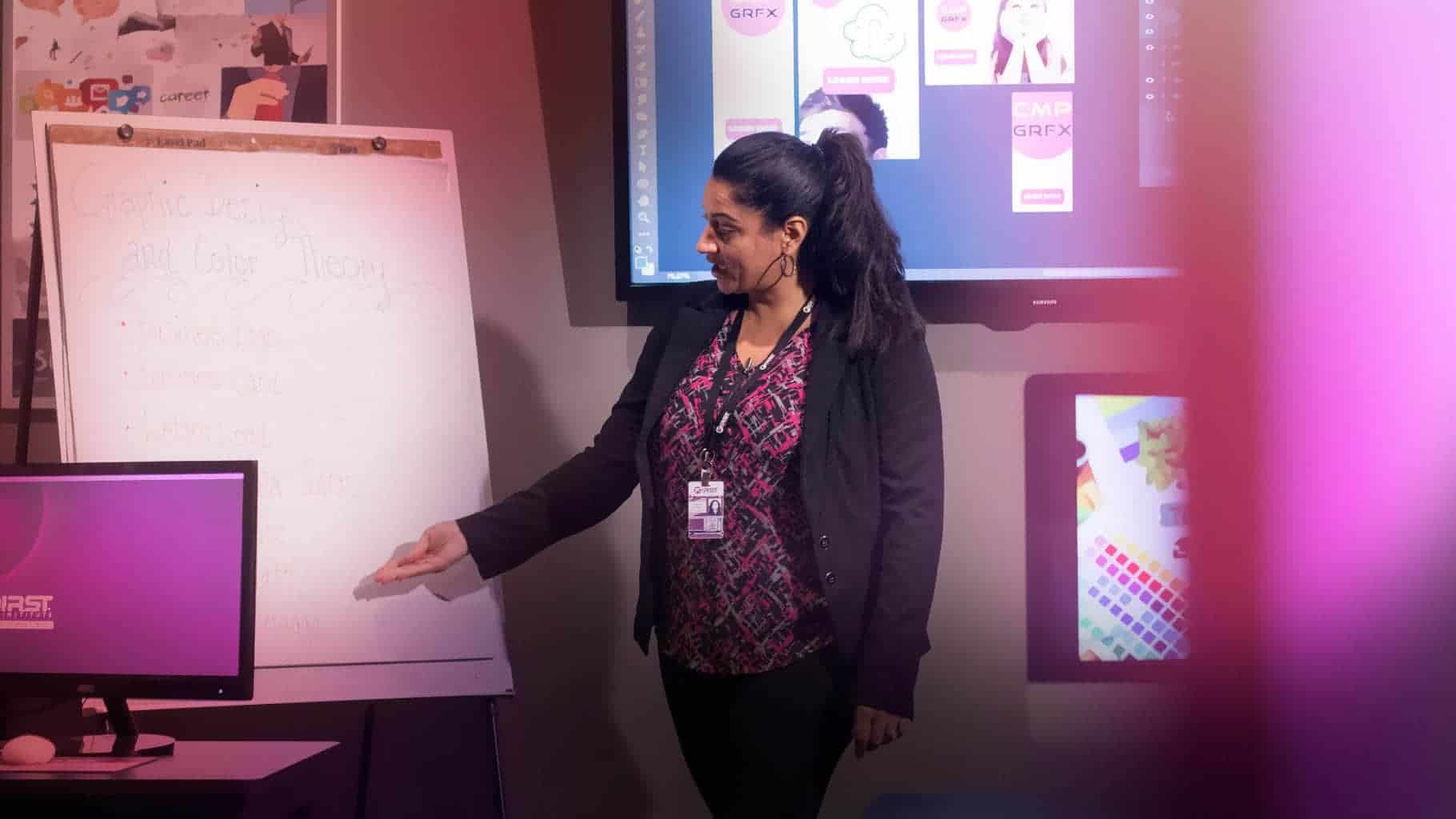 What led you to become a Graphic Design instructor?
When I graduated from an associate's program in Graphic Design, I opened up my first business. It was more on the consulting side and finding small jobs. Within that, a few jobs came up. some contracts for two years and so on, and then I met someone at a networking party, and he told me, "we need someone that does graphic design but to teach it," and that was my first step into the school system. I taught for two years as a sub while going to school for teaching.
Tell us a little about the program you teach.
I teach Intro to Graphic Design Entry Level. I take them from basic computer principles to a little bit of communications history. Then we get into a little bit of the art movement, so they can associate, for example, why do we use this font for this particular theme. Pretty much just giving them the principles of art, and then we go into and apply it on a computer. We use programs like Illustrator, Photoshop, and InDesign to apply all that we learn. We also try to get real-life clients who are not part of their internship to come in, and that way, they can get real-life practice. which helps them learn how to do something for someone else and not just an idea that comes from their minds. I also do an introduction to the web, which includes HTML and CSS.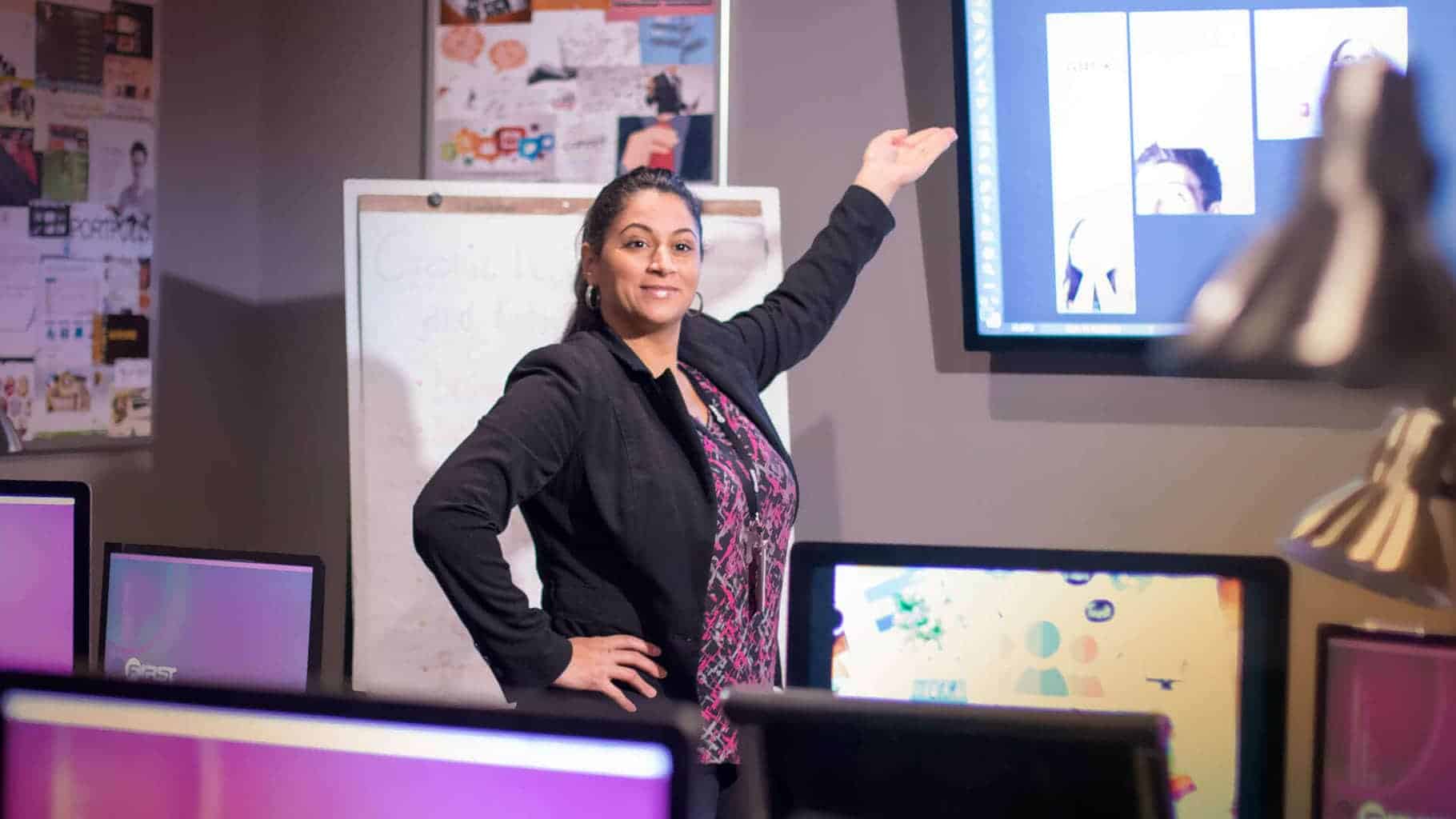 What would you say to potential Graphic Design students and Graduates?
As students, they are here because they want to learn, but they also have to put their own initiative. We can only teach them so much. so they have to take the initiative and make real-world connections so that they can start recognizing the things they are learning in the classroom. To the Graduates, Be professional! Keep your portfolio up to date with anything you do. think of being a self-starter and an entrepreneur, don't wait for others to find your opportunity. create it yourself.
Do you keep in touch with your students after they graduate?
I have, from here and as well, where I used to teach. They will call me asking if I could help them with a letter of recommendation. It's great to help them find information that they might need. I'm very big on networking, and it helps build a community. My door is always open to them.
Next time you are looking at a magazine, maybe you will look at it a little differently than before. From billboards to websites, Graphic Design is an intricate part of our daily lives and often hides in plain sight.
If you are interested in learning more about Graphic Design, then get in contact with F.I.R.S.T. Institute and take the "FIRST" step to a new career.