In this Audio Graduate Spotlight Q&A, you'll meet Dan Arias, a F.I.R.S.T Institute Audio Engineering and Music Production graduate who is finding success in the audio engineering industry. Dan firmly believes in the idea that overcoming adversity and pushing to succeed can lead to a dream career. Read on to discover how Dan's drive to overcome the obstacles he faced in childhood led him to successful audio careers!
---
OVERCOMING ADVERSITY
Growing up, Dan Arias faced many challenges. In Kindergarten, his teacher told his parents that he would never advance past the 2nd grade. He was placed in classes with disabled children throughout elementary school, and his parents' divorce in middle school left the family with few resources. Despite the hurdles he faced, Arias was determined to prove to himself and his doubters that he could make something of himself.
"I was rejected and looked down upon and I wished to change that and prove everyone wrong," Arias said. "I did what I had to do to study and challenge myself and make moves to improve my vision, physical/mental health and coordination."
A talented musician inspired by early 2000's groups like Linkin Park, Arias found music a refuge. He played guitar, bass, and sang and was on the search for fellow musicians who shared his passion for the audio industry. When he was unable to find the level of talent he was looking for and unable to afford studio time, he turned to the other side of the music business: audio engineering.
"Audio started out as a backup plan: in case I couldn't make it as a singer/songwriter I could make it as a sound engineer. There is a variety of areas to work in the audio industry. Having these experiences has given me so many opportunities to add to my demo reel and make a great living," Arias said. "I originally wanted to be a songwriter but I also wanted to start recording my songs and learn how to improve the quality of the audio. I started off with the cheapest equipment that wasn't the greatest, and now I've got high end gear and I'm still upgrading."

THE ROAD TO A CAREER
By the time he was a junior in high school, Arias set his sights on audio as a full time career. He had dreams of recording his own music that would be played on the radio and television, and worked hard to make those dreams a reality. Arias attended F.I.R.S.T. Institute after graduating from high school in order to increase his chances of success in the competitive audio industry.
"The reason why I wanted to go to an audio production school was because I realized it's important to have the education. Even if you apply to corporate jobs — at Radio stations like Clear Channel and NPR or TV stations like ABC, CNN, NBC and FOX — they all want to see somebody who is qualified with a diploma or a degree. Even production companies that are labeled independent [want that]," Arias said. "The production companies that are labeled as major obviously want to see that in their candidates. I wanted to do whatever could help me get my foot in the door easily in this industry, and that was going to school."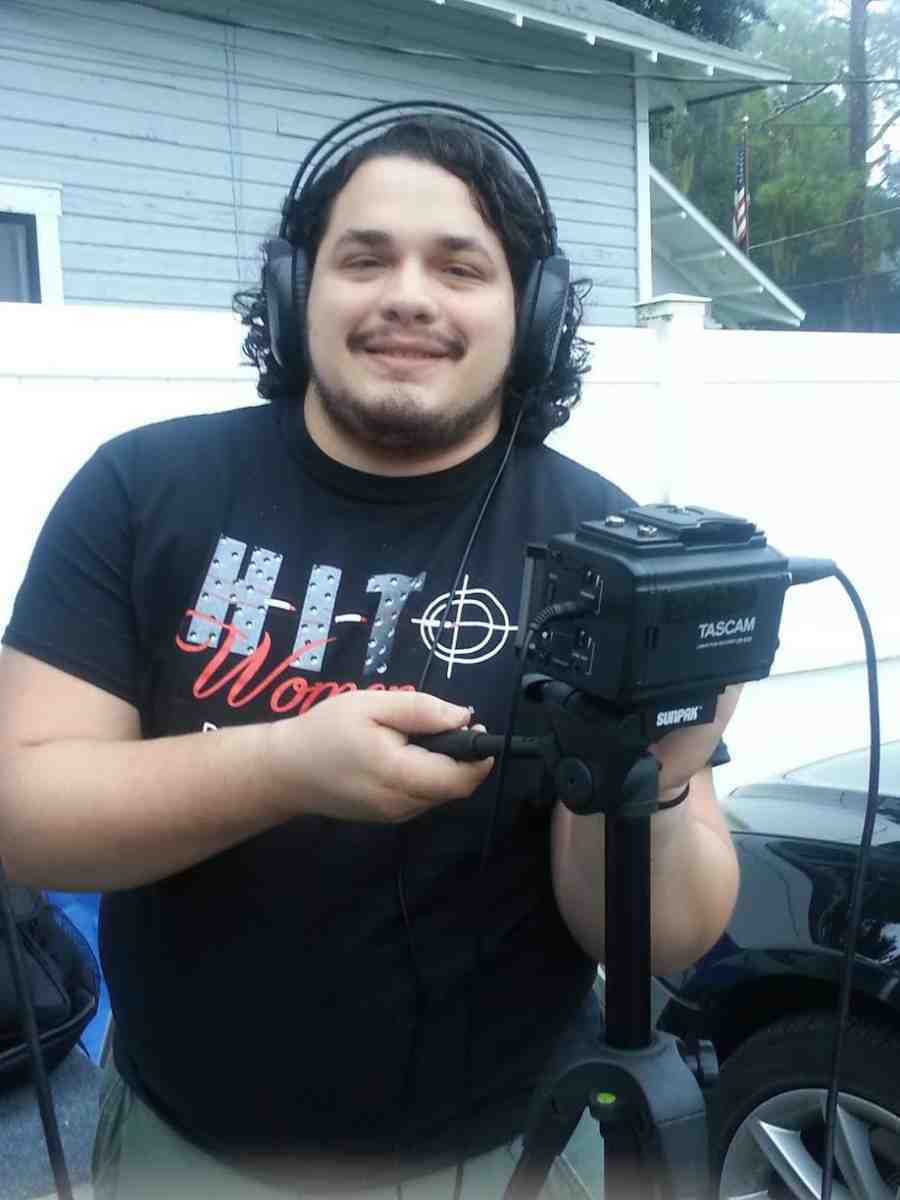 GETTING AN EDUCATION
Arias credits the audio production school at F.I.R.S.T. Institute with giving him all of the tools he needed to network and succeed.
"I learned a lot of great techniques, like how to mix from scratch and how to balance out different tracks to make them work together. They taught me a lot of great stuff when it comes to that. They also taught me great ways of how to master, a lot of great editing techniques and shortcuts, how to combine the best takes together, and great tips on where levels should be when you're recording. And, importantly, to communicate with talent," Arias said. "Ever since I learned these technical things, I try to keep these in mind."
After graduation, Arias landed a position interning at independent radio station WMNF Community Radio in Tampa. From there, he has gone on to work doing audio on the set of various film projects, including Demimonde, a vampire thriller, DRTY Diana, Running Forever, Deserted, Fallen Eagle, Honeybee, and Hit Women, starring an actress from Orange is the New Black.
A REWARDING JOB
"My favorite part of the job is doing a great job while running sound. When it comes to recording, the editing, mixing and mastering is the most rewarding part. Anytime I get an opportunity when I have free time, I go in my studio and improve my own projects and see what I can do to improve them. I love it so much that I do it in my free time also," Arias said.
Arias set a goal for himself to work with people from major labels, and he is quickly achieving this dream.
"It's rewarding when these projects are released. I love the recognition they get when they come out. I love when producers, directors, and assistant directors are happy because I look at them as if they're my clients. These are people who work with big folks, like the Honeybee producer who is a cousin of Miley Cyrus," Arias said. "The best thing about this industry is that no two gigs are the same its always interested and you're always learning how to improve your craft."
WHAT'S NEXT?
Arias has no plans to stop moving up in the audio and sound world, and hopes to one day inspire F.I.R.S.T. Institute students the way that Jeff Villanueva, a respected audio engineer who has worked with the likes of Justin Timberlake, Mariah Carey, and Rihanna, inspired him when he spoke at the school.
"My greatest advice is to be very ambitious. Be determined. Never give up and keep pushing. You'll always be subjected to different personalities — don't take it personally. Don't ever take things personally. I would suggest they take Jeff Villanueva's advice: rise above it and keep the faith," Arias said.
We look forward to seeing what Dan works on in the future! You can follow him and learn more about his recent projects on IMDB.
---
Would You Like to Be Our Next Success Story?
A quality education from a great audio production school like F.I.R.S.T. Institute, one of the top audio engineering and music producing schools in Florida, can teach you the skills you need to succeed in the audio industry. There you'll learn what you need to get your new audio production career off the ground, you'll even learn your way around a studio and how to make your own music.
You won't get our quality, hands on learning experience with passionate audio industry professionals anywhere else! Check out the Audio Engineering and Music Production program at the F.I.R.S.T. Institute audio production school today. You're only months away from any number of dream audio careers!